BSNL launched a futuristic product

TACTILON AGNET 500

developed by AIRBUS Defence & Space OY, Finland. The product was launched in India by BSNL in association with ARUBAITO India Pvt Ltd, Bengaluru, a Value Added Reseller (VAR) of AIRBUS Defence & Space OY, Finland.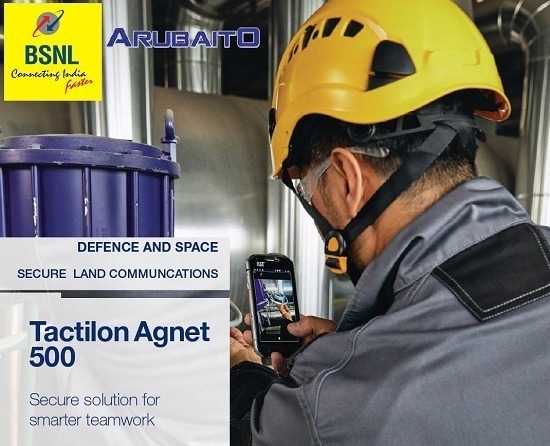 Tactilon Agnet brings

secure group communication

to your smart devices. This way, smart device users become part of the professional world – voice, data, video and location services are all at hand with the reliability and security that professional users expect.
Tactilon Agnet scales flexibly from simple push-to-talk (PTT) to an extensive group collaboration solution which takes advantage of smart device capabilities in a secure and controlled way.

Who are benefited with TACTILON AGNET 500 application?
This product will be extremely useful for Defense Forces, Paramilitary Police, Private Security agencies, Disaster Management, Public Safety, Fire and Safety, Aviation, Railways, Metro rail, Transport, Ports, Project Companies, Event Management companies, Classified programs and Healthcare providers etc.
It meets the needs of public safety organizations as well as transport, utility and industry users. Staff necessary to an operation can be easily and securely connected, even when using different devices and technologies.
With Tactilon Agnet 500,
smartphone and tablet users
become part of the professional
world with the reliability, security
and capabilities that users expect
including:-
• Push to talk
• End-to-end encryption
• Video calls
• Emergency calls
• Lifeguard
• Real-time location tracking
Just like advanced professional
radios, Tactilon Agnet 500 keeps
system updated on users
locations. In addition,

field users
can see their colleagues and point
of interests on a map in their
smartphones.
Existing processes
can be improved by introducing:-
• Rich media messaging (e.g. pictures)
• Positioning (e.g. group location)
• Dispatching and tactical group administration
• Digital video (e.g. body camera)
Tactilon Agnet 500 brings your organization's
smartphones into the corporate private digital
network. With just a touch of a button you can
securely talk, send multimedia messages and
exchange live video with your team.
Tactilon Agnet 500 runs natively on
standard or ruggedized devices
and on web browsers. It offers a
simple, intuitive user interface that
Airbus has developed using its long
experience of public safety
ergonomics.
Flexibility provides efficiency
Corporate users can use Tactilon
Agnet 500 to access advanced
applications, helping improve
effectiveness and using resources
more efficiently. Field workers
become knowledge workers, with
the solution enabling enterprise field
operations to collaborate and
coordinate efficiently and improve
safety.
Tactilon Agnet 500 can also be
used by team supervisors as a light
dispatch solution to easily
coordinate large field teams
needing real-time communications.
Wherever you are and whatever your
collaboration demands, Tactilon
Agnet 500 brings you and your team
together. Whether you need to share
pictures of a damaged rail or get
support with live video while
repairing a switchboard, Tactilon
Agnet 500 makes all users a full part
of the team.
Keep all employees safe
Sometimes things go wrong and
every second counts. If you press
the emergency key, your team,
supervisors and control room can be
alerted without a delay. In an isolated
environment your safety is ensured
with the lifeguard functionality: the
application automatically sends an
alert in case you fall down.
With Tactilon Agnet 500 the total
emergency response time can
significantly be reduced.
Compatibility across the board
Tactilon Agnet 500 supports 3GPP
standards, which Airbus
contributes to in the area of
Mission Critical Services. Airbus
also conducts comprehensive tests
of various devices to define a useful
ecosystem for end users and
operators and assure the right level
of service and interoperability.
The use of Google and Apple maps
conveniently avoids the need for
dedicated maps, while SMS and
email authentication help to ensure
fast set up.
Tariff of TACTILON AGNET 500
Description

AGNET 500 Standard
AGNET 500 Premium
Features
Push-To-Talk Group Communication



Private Voice Call





Messaging (Multimedia)





End to end encryption

Push-To-Talk Group Communication



Private Voice Call


Messaging (Multimedia)


End to end encryption


Flexible dispatching


Web chat


Video


Emergency calls


Lifeguard (Advanced man-down)


Real-time location tracking
Applications
Agnet Work in Android 5 & above


Agnet Work in iOS 9 & above


Agnet Admin in web
Agnet Work in Android 5 & above


Agnet Work in iOS 9 & above


Agnet Admin in web


Agnet Dispatcher in web
Tariff (Per Month)
INR 1000
INR 1500
A complete solution as a
service
Tactilon Agnet 500 is a cloud based
service based on two
subscription plans (as given in the above table).
It is ideal for
professionals seeking a modern,
easy-to-use, flexible and scalable
group collaboration solution to help
them improve daily operations.
The cloud-based service enables
rapid set up and low costs without
the need to focus on hosting or
maintenance activities. Service
availability is high, while you gain
full flexibility in terms of the number
of subscribers and add-on
features. Security patches are
updated immediately and new
capabilities can be introduced
without delay.
Tactilon Agnet 500 supports hybrid
network solutions which enable
organizations to migrate smoothly
from narrowband systems (DMR,
P25, Analog, TETRA and Tetrapol)
without disruptive change
programs. Not only does Airbus
provide unrivalled expertise in
evolving mission critical
collaboration to hybrid
environments, but our SmarTWISP
ecosystem allows to organizations
to extend their capabilities and
adopt new use cases through
seamlessly integrated applications
and accessories.
Tactilon Agnet 500
meets all Critical Communication needs by leveraging the benefits of Mobile Broadband, LTE & Cloud technology.
Dear readers, please share your views and opinions about this innovative product launched by BSNL via comments with us.