When your smartphone is lost or your SIM card is broken or not working, you can get the same mobile number activated in another SIM card. Since BSNL is in the process of 4G roll-out, the PSU is currently issuing 4G SIM cards as replacement for its prepaid and postpaid mobile customers all over India.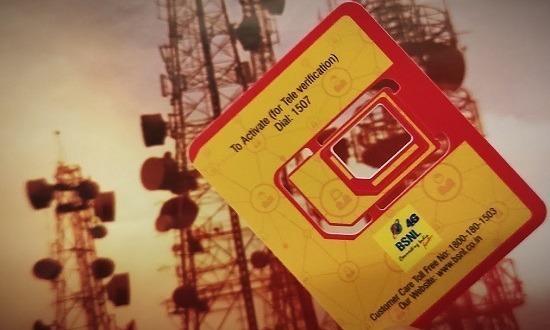 Customers may also need to get duplicate SIM cards when they purchase new mobile handsets which require nano SIM cards.
In some cases, BSNL SIM card will be blocked permanently when PUK code is wrongly entered by the customer.
Here we describe the step by step procedure to get a duplicate SIM card for your lost / broken / damaged BSNL SIM card.
What are the common reasons for SIM replacement / Duplicate SIM card ?
4G up-gradation

International Roaming Activation

SIM card or Mobile handset lost

SIM card registration failed

SIM card is invalid

Emergency calls only

Old SIM card didn't support new mobile phone

PUK blocked
In all the above cases, BSNL Mobile customers – both Prepaid and Postpaid may get a duplicate SIM card from the nearest BSNL Customer Service Center (BSNL CSC) or BSNL's authorized retailer shop.
Details of SIM

BSNL Prepaid / Postpaid SIM Replacement Charge – MRP (in Rs inclusive of GST)

All type of 4 G USIM

(regardless of memory size)

Rs 50/-
Documents to be submitted for BSNL SIM replacement
A customer need to
submit POI (Proof of Identity) and POA (Proof of Address) which proves your identity, then BSNL staff will verify the details regarding validity and name, Immediately they will issue the BSNL SIM card replacement with the same mobile number.
BSNL is now issuing 4G enabled 3 in 1 repluggable SIM cards (can be used in Normal / Micro / Nano slot).
Cost of BSNL 4G up-gradation SIM card
BSNL is issuing free 4G SIM cards in those areas where BSNL 4G network is being rolled out. This Free 4G SIM up-gradation scheme is valid till 31-03-2021 in all telecom circle all over India. But in other areas, a customer need to pay Rs 50 for 4G up-gradation SIM card.
How To get BSNL Prepaid International Roaming SIM card?
A customer need to submit his request for BSNL Prepaid International Roaming enabled SIM card along with his POI & POA.
How To get BSNL Postpaid
International Roaming SIM card?
A customer need to submit his request for BSNL Postpaid International Roaming enabled SIM card along with his POI, POA and copy of valid passport. He need to deposit Rs 5000/- as refundable security deposit for activating Postpaid International Roaming facility.
Will the charges for BSNL SIM replacement is same in all the circles?
Yes, in all the circles the BSNL duplicate SIM card cost will be the same.
Can I approach any BSNL CSC of other states for BSNL SIM replacement?
Due to technical limitation, it is not possible to issue replacement SIM card from another circle and you have to approach
your home circle only for BSNL duplicate SIM.
Example :- If a customer belongs to Kerala circle, he can't avail the duplicate SIM from BSNL Karnataka circle.
Can I enjoy the existing freebies or other facilities for a replacement?
BSNL SIM Replacement means – your physical SIM card will be replaced with a new one which will be mapped with the same mobile number. While
deactivating the old SIM card, all the existing facilities (Voice, SMS, data balance, expiry date) will continue in replacement SIM also.
How much time will a customer wait for BSNL SIM replacement activation?
After submitting the necessary POI and POA to BSNL CSC, it will take a minimum of 30 minutes for the activation of BSNL duplicate SIM card.
If I lost my mobile, Is it mandatory to block BSNL SIM card?
No, it is not necessary to block the same. To reduce the risk of misuse, customers are advised to get a replacement SIM / duplicate SIM card from nearest BSNL CSC at the earliest. The old SIM card will automatically get deactivated after SIM replacement. A customer can also call BSNL Customer Care Number 1503 and block his mobile number.
To get duplicate SIM card, a customer has to come himself with all the relevant documents. BSNL will be issuing replacement SIM cards only to those cases whose genuineness can be verified with supporting documents.
Dear readers, please share your doubts about BSNL SIM card replacement? How many of you have faced difficulties in getting a duplicate SIM card from BSNL CSC?