Bharat Sanchar Nigam Limited (BSNL) has announced the launch of online education initiative –

DRONE

– Digitally Rich Online Nationwide Education in association with

IIT Bombay

and

M/s Yupp Master.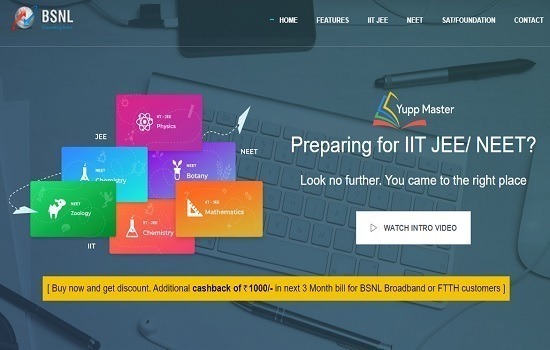 As per the latest information, BSNL customers can get special offer for online courses offered by M/s Yupp Master. It includes – IIT JEE, NEET, SAT regular / weekend / foundation courses. BSNL will be providing e-learning facilities to its subscribers through BSNL Bharat Fiber & BSNL ADSL Broadband networks.
BSNL CMD, Sri. PK Purwar said – "We have put our best effort in creating an open ecosystem for best talents in education sector to partner with BSNL and drive the Digital India Program through BSNL's pan-India high-speed broadband network. Our DRONE (Digitally Rich Online Nationwide Education) Initiative allows anyone in the online education industry to partner with BSNL and creates a Pan-India Presence through our digital platform."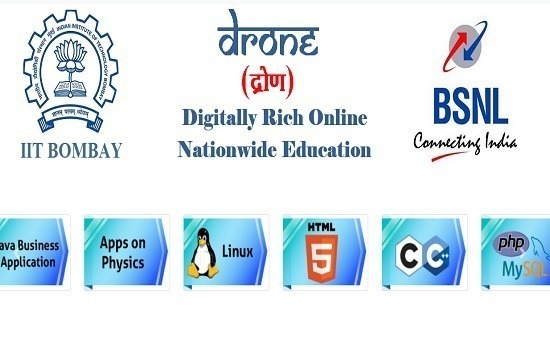 Free Online Content developed by IIT Bombay
IIT Bombay has developed the whole online content, including Advance C, Android App development, Java programming, Python, Java Business Application, Linux, HTML5, Scilab, Health, Nutrition, and Net banking etc.
E-learning platforms are getting more popularity and acceptance among students during this COVID-19 pandemic period. BSNL – India's largest fixed line operator, has decided to capitalize this opportunity by partnering with IIT Bombay and M/s Yupp Master online education App.
Yupp Master is a Revolutionary Educational Technology App that has arrived in the market to make online IIT-JEE/ NEET Coaching (Regular and Crash courses) available at an affordable price for students all across India. Yupp Master
bear an experienced Faculty that had been training students and helping them achieve Top Ranks in the National Competitive exams for over 15 years.
How to access BSNL DRONE Online Education Initiative ?
Yupp Master content can be accessed through the "Premium Access" link and free contents provided by IIT Bombay can be accessed through "Open Access" link provided in the above address.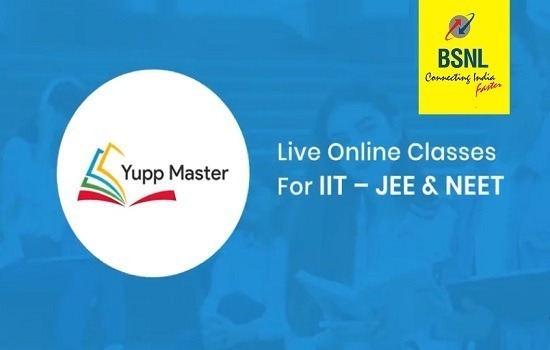 Students can access
online classes provided by
M/s Yupp Master on anytime, on any device. Yupp Master offer
live question-answer services and live sessions of classes and online
tests and study material.
Online IIT JEE, NEET & SAT Courses
Yupp Master offer online courses for IIT JEE & NEET in English, Hindi and Telugu languages. Online IIT JEE and NEET courses are available for students in 11th Grade and 12th Grade. They are also providing
SAT
Weekend, SAT Regular Courses &
Foundation course for 10th Class students. Foundation class offers
Live Classes in English Covering all 10th Class Topics.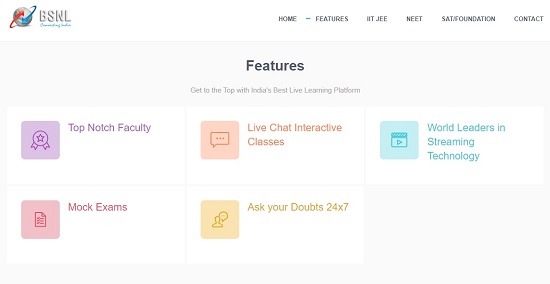 Special Offers for BSNL Bharat Fiber (FTTH) & Broadband Customers
BSNL customers may get special discounted price from Yupp Master for the online IIT JEE or NEET courses. In addition, BSNL customers may also get additional cashback of Rs. 1000/- in next 3 Month bill for BSNL Broadband or FTTH customers.
Dear readers, please share your views and opinions about this latest online education initiative by BSNL via comments with us.