To make BSNL services more reliable and trouble free, the PSU introduced an

Online Complaint Portal

for its Landline,
Mobile, Broadband and FTTH customers across all the telecom circles. BSNL Mobile coverage complaints, broadband speed issues etc can also be booked for a speedy resolution.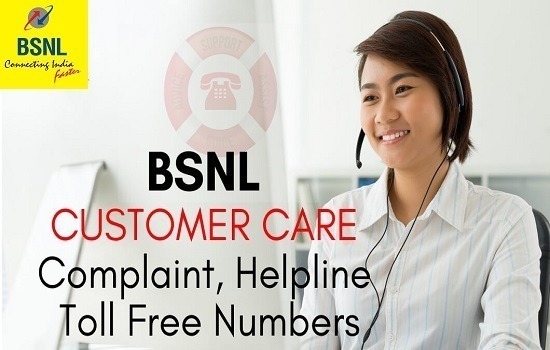 Customers facing any complaint related to BSNL or BSNL services may lodge their long pending grievances to BSNL higher authorities through BSNL Online Public Grievance (PG) portal. T
he operator claims that BSNL Circle Level and Corporate Level team will monitor all the complaints registered in the public grievance portal to resolve them
within a specific time-frame.
How to use BSNL Online Complaint Portal / Public Grievances (PG) System
1. First you need to Book your complains at BSNL Toll Free Number or BSNL Online Complaint Booking Portal / Selfcare Portal. BSNL has dedicated toll free customer care and complaint booking numbers for each service – Landline , Broadband , FTTH, Mobile, WiMax, CDMA etc. BSNL Toll Free Customer care numbers are given in the below table.
BSNL Toll Free Customer Care Numbers for Complaint Registration
Service Category

Toll Free Customer Care Number (from BSNL Network)

Toll Free Customer Care Number (from Any Network)

BSNL Landline

198 / 1500

1800 345 1500

BSNL Landline Bill Information

1501

1800 180 1501

BSNL CDMA

1502

1800 180 1502

BSNL GSM Mobile

1503

1800 180 1503

BSNL Broadband & FTTH (Bharat Fiber)

198 / /12678 / 1504

1800 180 1504

BSNL MPLS & Other Data Services

1800 425 1957
2. If your problem is not resolved within satisfactory time period or BSNL Staff/Officials are not resolving the problem then there is a way to bring your problem to higher level by registering complains at BSNL Public Grievances (PG) Complaints Portal to resolve the issue within a specific time frame.
3. BSNL Employees can also submit their grievances related to transfer / posting, pension, staff matters etc through this portal.
Complaint Booking Procedure through BSNL Online Public Grievance Portal
Booking of compliant on this BSNL Public Grievance Online Complaint Portal is very simple and easy.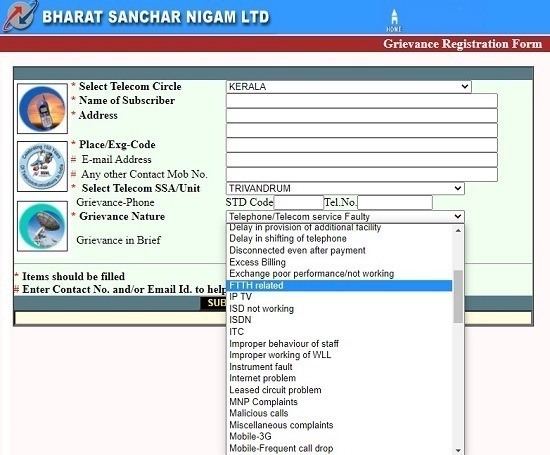 Open your web browser and just visit BSNL Public Grievance Registration Portal @ http://pgrms.bsnl.co.in/pgs/internet/pgwebregn.asp

Select Telecom Circle or State

Fill your details in requisite fields (Name, Address, Place, E-mail Address, Contact No, Telecom SSA/Unit, Grievance-Phone, Grievance Nature, Grievance / Problem in Brief), which is must, to reach to BSNL authorities and a contact with the customer.

After filling the details, just click on submit then you will get your unique complaint ID. Note down this ID, so that we may follow up the registered complaint in future.
How to check status of registered complaint in BSNL Public Grievance Portal?
BSNL Grievance Registration at BSNL Circle Office & SSA/BA Office
BSNL Customers can also voice their grievances and register in Grievance Cell working in the respective Chief General Manager's Office by dialing Toll Free number 12727. The grievances to Secondary Switching Areas / Business Areas can register through Toll Free number 12728.
BSNL Public Grievance Registration through
Directorate of Public Grievances (DPG)
The Directorate of Public Grievances (DPG) in the Cabinet Secretariat of Government of India Helps to obtain responses to unresolved grievances on matters relating to some Central Government Departments and Organisations.
How to approach DPG ?
Visit https://dpg.gov.in/ and give details of your grievance with copies of supporting document. Your earlier attempts to have the grievance resolved through the grievance redressal mechanism of the department should also be furnished.


Read More : BSNL Selfcare Portal to manage all BSNL Services Online : How to Register in BSNL Selfcare Portal ?


BSNL Toll Free Customer Care Numbers are common for all the customers of all the States across India. For those who were not satisfied / not solved their pending issues with customer services, he / she can book an online complaint to reach to BSNL higher authorities with BSNL online complaint portal.
Dear readers, please share your views and opinions about BSNL Services. How many you have faced service related issues with BSNL?