BSNL Tune is a Personalized Ring Back Tone (PRBT) service provided by BSNL. Now, BSNL prepaid and postpaid mobile customers can activate their favourite song as their caller tune / hello tune with the help of

My BSNL Tunes App.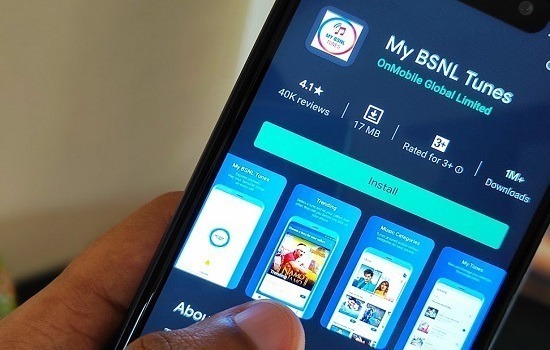 My BSNL Tunes App can be downloaded from Google Play Store. With the help of this app, a user can
customize his caller tune from popular film songs, album songs, hits from Bollywood, Hollywood, Instrumental, Regional songs etc. My BSNL Tunes app lets you search, browse and set your favourite song for all your callers.
You can play a super hit song, your current status, even your name with just a click to entertain all your callers while you are about to pick their call.
You can make your call waiting time amazing with My BSNL Tunes.
You can also Play Jokes, Regional music, Devotional music, Instrumental music or Movie dialogues to your callers using My BSNL Tunes app.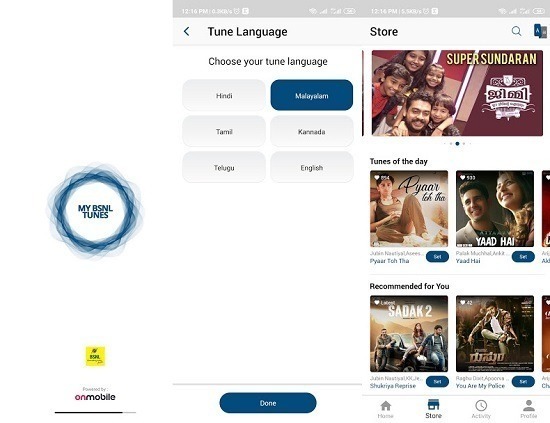 My BSNL Tunes offers songs across languages such as Hindi, English, Tamil, Telugu, Malayalam, Kannada, Odiya, Bengali, Assamese, Marathi, Gujarati, Bhojpuri and Punjabi. You can play trending Bollywood hits, Romantic Songs, Dance, Party and Evergreen Classics back to back.
Features of My BSNL Tunes App
Play and activate tunes with just one click

Over 1.4Mn latest songs to choose from

Create your own playlist search directly for Albums, Artists &Tracks

Choose your preferred Language Songs

Profile (Status) Tunes – Let your callers know if you are busy

Auto-detect Profile Tune – In meeting, device on silent, device on low battery, roaming etc

Name tunes – greet callers with your name

Personalized Caller tunes and set different Caller tunes for different contacts

100% Ad Free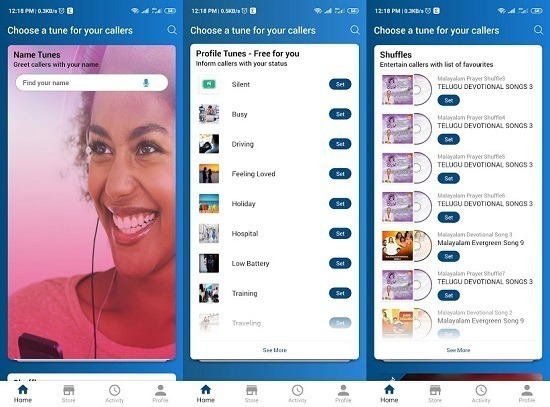 How to Activate / Deactivate BSNL Caller Tunes / Hello Tunes with My BSNL Tunes app ?
Download and install My BSNL Tunes app from Google Play Store. Login to the app with
your mobile number and OTP (One Time Password). After installation, open the My BSNL Tunes app and search for your favourite song.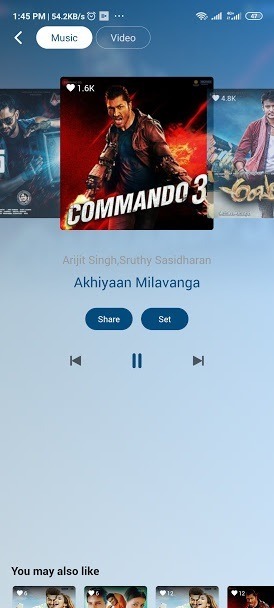 Select the song from the list. Now you can hear the playback of the selected song. To set a song as your BSNL Tunes, just click on 'Set'. We can also change the song as per our requirement any time through My BSNL Tune app.


BSNL customers can activate Profile Tunes absolutely free with My BSNL Tunes app. With Profile Tunes, tell your callers that you are busy in a meeting or travelling on business or vacation or driving or in hospital etc. We can set our profile tune as per our requirement. We can also sync Caller tunes with your calendar to automatically set FREE Profile Tunes when you are in a meeting.
Personalized Caller tunes
With My BSNL Tunes app, you can set different Caller tunes for different contacts without any additional charges or fee.
BSNL Tunes Shuffles (Playlists)
My BSNL Tunes app also let your callers listen to different songs every time. You can personalize your shuffle by enabling it in My Tunes section under Settings. You can also customize your shuffle and set a special song for your special callers.
You can set your name as your BSNL Tune and welcome your callers. For instance, Thank you for calling (Your Name). Please wait while your call is answered. You can search for your name tune under Name Tunes section in My BSNL Tunes app.
This app is exclusive for BSNL South and East subscribe
rs. East Zone is Andaman Nicobar, Assam, Bihar, Jharkhand, NE1(Mizoram, Tripura, Meghalaya), NE – 2 (Arunachal Pradesh, Nagaland, Manipur), Orissa, West Bengal and Sikkim. South Zone is Andhra Pradesh, Telangana, Karnataka, Kerala, Tamil Nadu and Chennai.
What are the charges for BSNL Tunes ?
All modes of activation APP/IVR/SMS/USSD/WEB are Toll Free.
Now most of the prepaid plans and STVs are bundled with FREE BSNL Tunes. For customers not having Free BSNL Tunes bundled with their Plan / STV, monthly charges of BSNL Tunes sis Rs. 42/-
with Unlimited FREE Song Downloads
. In addition, longer validity packs are also available for BSNL Tunes as per the below table.
BSNL Tunes – Charges / Caller Tune Packs
Particulars

PRBT Charges

Song Selection charges

Activation Code

send to 56700

BSNL Tunes Monthly pack
Rs 30 for 1 Month
Rs 12 / Month
BT ACT
BSNL Tunes Bada pack for 3 months
Rs 60 for 3 Months
Rs 12 / Month
BT Q <SONG CODE>
BSNL Tunes Bada pack for 6 months
Rs 110 for 6 Months
Rs 12 / Month
BT HY <SONG CODE>
BSNL Tunes Bada pack for 12 months
Rs 200 for 12 Months
Rs 12 / Month
BT Y <SONG CODE>
BSNL's FREE PRBT Bundled STVs & Plans
Customers in Free BSNL Tunes bundled plans / STVs can enjoy unlimited song selection with My BSNL Tunes app.
Unlimited Song Selection during validity period of STV/Plan is free of cost. Dial 56700 to activate the free BSNL tunes available with your Plan / STV.
Dear readers, please share your views and opinions about My BSNL Tunes app from BSNL via comments with us. How many of you have already tried BSNL's Name Tunes & Profile Tunes ?