Bharat Sanchar Nigam Limted (BSNL) has started accepting online registration for new channel partners or franchisees for providing telecom services all over India. BSNL launched this initiative in an attempt to boost its Bharat Fiber (Fiber to the Home) business across the country.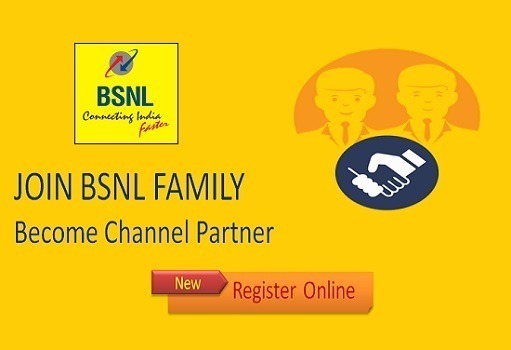 As per the latest information, BSNL has started signing agreements with new business partners / telecom infrastructure providers who can provide telecom services in
the existing and upcoming residential/commercial complexes and all other parts of rural and urban areas on revenue sharing basis. BSNL will be offering attractive commission up to 50% of the revenue generated to telecom infrastructure providers.
Who can apply for BSNL Franchisee / Channel Partner ?
BSNL is providing unique opportunity to Builders, Resident Welfare Associations (RWAs), Telecom Infrastructure Providers, Franchisees, System Integrators, DID Franchisees of BSNL, any registered company or society, Local Cable TV Operators, Telecom Service Providers, BSNL Retailers, Direct Selling Agents, Start-ups or local entrepreneurs.
Where to Apply ?
Online Application : BSNL Channel Partner / Franchisee Registration url is https://fms.bsnl.in/partnerRegistration.jsp


Offline Application : Interested people may directly contact your nearest BSNL Business Area Office for signing agreement and to become BSNL's Bharat Fiber business partner.
Roles & Responsibilities of Franchisee / Channel Partner
Where the Channel Partners Role involves building or extending and maintaining BSNL Network and its customers and to explore the possibility of expanding the BSNL Customer base through extension of last mile connectivity in provisioning of BSNL Services by the prospective partners and to expand the Telecom footprint for BSNL across India.
What is it in for the Franchisee ?
Attractive Revenue Sharing Model with commission up-to 50% of Revenue generated along with a well known branding of BSNL whose services are available in nook and corner of the Country along with host of many other benefits. Other m
ajor attractions/benefits for BSNL authorized Channel Partners / Franchisee are:-
Geography
Service presence through out India

Can opt for city or State level Franchisee Provider
Services
Multiple Product Range

Product Packaging and pricing

Product Bundling
Commission
Attractive Commission Percentage

Activity Based Commission
Payments
Web App
State of the art IT Infra

Franchisee Management System
Mobile App
Franchisee Manager
Dedicated Franchisee Manager

Circle & Business Area Level Support Teams

Marketing and Sales Support
Support Systems
BSNL Franchisee Facilitation Centre (FFC)
BSNL already launched Franchisee Facilitation Center at Bangalore to provide all the technical support for BSNL Franchisees and node in charges for improving Bharat Fiber business across the country. This centre is exclusively created to facilitate the Franchisees in starting their partnership business with BSNL. BSNL FFC website also provides all latest firmware upgrades of third party OLTs & ONTs. Franchisees can also get technical contact details of third party OLT & ONT vendors like – Syrotech, Netlink, DBC etc.
Contact details of BSNL Franchisee Facilitation Centre
Toll Free Number : 1800 599 0088
Email Id : [email protected]
Website : https://bharatfibre.bsnl.co.in/
The services over Bharat Fiber (FTTH)
Basic internet Access Service controlled and uncontrolled upto to 1Gbps.

TV over IP Service (MPEG2).

Video on Demand (VoD)(MPEG4) play like VCR

Audio on Demand Service

Audio on Demand Service

Bandwidth on Demand (User and or service configurable)

Remote Education

Point to Point and Point to Multi Point Video Conferencing, virtual classroom

Voice and Video Telephony over IP: Connection under control of centrally located soft switches

Interactive Gaming

VPN on broadband

Dial up VPN Service

Virtual Private LAN Service (VPLS)
As we reported earlier, BSNL commercially launched it's much awaited IPTV Services in Kerala. Customers may enjoy one month free subscription to Free To Air (FTA) channels. BSNL also offers pay channel IPTV packs starting from Rs 100/- onwards. The service is currently launched in selected areas which will be extended all over India very soon.
List of Third Party OLTs which can be integrated to BSNL Network (Data as on 03-09-2020) is given below:-
M/s Netlink

M/s Alphion

M/s Khwahish

M/s DBC

M/s Optilink

M/s Syrotech

M/s Uniway

M/s Genexis

M/s Optronix

M/s Sharpvision

M/s STEL fiber electronics India pvt LTD

M/s Catvision

M/s Technext

M/s Tara

M/s Revo

M/s Fibresol

M/s Metro

M/s Digisol

M/s Electro line

M/s Fibre gate

M/s Inotech

M/s Nepstech

M/s Opterna

M/s Huawei

M/s Zyxel
Different Business Models for TIPs
BSNL TIPs/LCOs can integrate OLTs from the above list to BSNL network after signing revenue share agreement with BSNL. The PSU is having different TIP Business models (TIP Business Model I, TIP Business Model II, TIP Business Model III, TIP Business Model IV & TIP Business Model V) with revenue share percentage ranging from 10% to 50%.
BSNL TIP Business Model IV
This is the most popular business model in which, a franchisee / TIP can get maximum revenue share of 50%. In this business model, the Telecom Infrastructure Provider has to install, maintain and manage his own OLT and OFC network. In this model, it is the responsibility of TIP to provide customer end ONTs, its wiring and maintenance. TIP has to extend back-haul OFC connectivity from the nearest BSNL PoP (Point of Presence) to his OLT. Customer on-boarding and billing will be done by BSNL.
Dear readers, please share your views and opinions about this new initiative by BSNL via comments with us. Recenlty, many local cable operators were already made revenue share agreement with BSNL for providing FTTH services. How many of you got BSNL FTTH connection via Cable TV Operator ?