Bharat Sanchar Nigam Limited (BSNL) – India's one and only – government owned telecom operator has launched

high speed BSNL 4G mobile services

in high security strategic Atal Tunnel at Rohtang.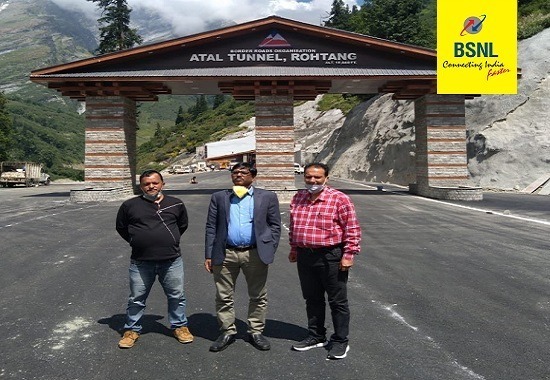 Atal Tunnel (Rohtang Tunnel) is
one of the longest road tunnels in India (9.02 KM)
built under the Rohtang Pass
which connects
Manali and Leh. This highway tunnel is one of the most strategic
corridor for our
armed forces and countrymen. BSNL is always providing services to the public and our military forces at most difficult terrains where private telecom operators are reluctant to operate.
As per the latest information, BSNL has installed 3 numbers of 4G eNodeBs (4G Mobile Towers) inside the Atal Tunnel for seamless connectivity and high speed mobile data download.
Now B
SNL costumers and our security forces can enjoy ultra fast 4G mobile internet services throughout the tunnel.
BSNL Officers congratulated their team members and engineers for their dedication and hard work through Twitter.
— अश्विनी (Ashwini) 🇮🇳 (@asbhonge) September 12, 2020
— Sunil Sharma (@Suni_tweet) September 17, 2020
How to activate BSNL VoLTE Service on your number?
BSNL Mobile customers (both prepaid and postpaid) can activate the VoLTE services on their 4G enabled smartphones by texting 'ACT VOLTE' to 53733. Once it is done, the services will be activated in 24 hours.
How to check your mobile handset compatible with BSNL 4G ?
Customers can check whether their mobile handset is compatible for BSNL 4G Mobile Services through SMS.
Step 1: First, find the IMEI Number of your Mobile handset by typing *#06# in dial pad. You will get 15 digit IMEI number, If two IMEI numbers you are getting displayed, use the first one only.



Step 2: Send SMS as KYM <IMEI Number> to 14422
You must send the text message without space and brackets from your Mobile Handset with above syntax. Immediately you will get a reply to check for BSNL 4G compatibility of your mobile handset.
Step 3: If the reply contains 'LTE FDD Band 1' then your mobile handset is compatible to BSNL 4G services.
Customers can upgrade their existing BSNL SIM card to BSNL 4G SIM by visiting nearest BSNL Customer Service Centers or BSNL retailer outlets. BSNL is offering Free 4G SIM up-gradation in those areas where network up-gradation is being done.
I am not a BSNL Mobile customer. How can I avail BSNL 4G?
Customers of other private telecom operators can switch over to BSNL by retaining their existing number through MNP. To port your number to BSNL, just visit nearest BSNL CSC ( Customer Service Center) or nearest retailer outlet.
Dear readers, please share your views and experience about BSNL 4G Mobile Service via comments with us.