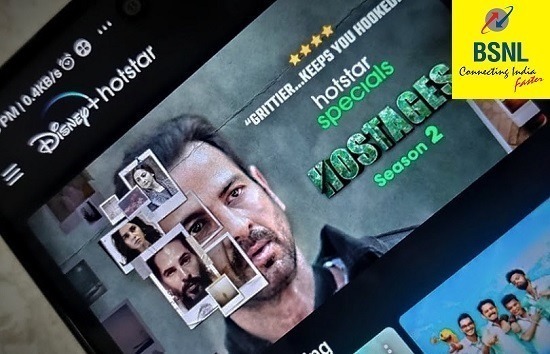 Disney+ Hotstar

is India's largest premium streaming platform with more than 1,00,000 hours of drama and movies in 17 languages, and coverage of every major global sporting event, owned and operated by Star India, a subsidiary of The Walt Disney Company India. Disney+ Hotstar features two paid subscription plans; 'VIP' – which focuses on domestic programmes and sports content, and

'Premium'

featuring premium international films and television series.
BSNL customers can enjoy free 'Hotstar Premium' subscription with selected broadband and Bharat Fiber (BSNL FTTH) plans which are –

BSNLSuper Star 300 Plan & BSNL Super Star 500 Plan.
BSNL Hotstar Premium Bunbdled Bharat Fiber (FTTH) & ADSL Broadband Plans

Plan

Fixed Monthly Charges

(Rs.)

Data Usage

Maximum Download Speed in Bharat Fiber (FTTH)

(Bandwidth)

Maximum Download Speed in ADSL Broadband

(Bandwidth)

Freebies / Free Calls

Super Star 300

779

Unlimited

50 Mbps upto 300 GB, then 2 Mbps

10 Mbps upto 300 GB, then 2 Mbps

24×7 Unlimited Free Calls to Any Network

+

Free Hot Star Premium Subscription

Super Star 500

949

Unlimited

50 Mbps upto 500 GB, then 2 Mbps

10 Mbps upto 500 GB, then 2 Mbps

24×7 Unlimited Free Calls to Any Network

+

Free Hot Star Premium Subscription
Customers in the above BSNL Broadband / Bharat Fiber Plans can activate their Free Hotstar Premium account simply by using their registered mobile number.


BSNL Free Hotstar Premium Account Activation Procedure
For activating Hotstar Premium Subscription, we need to login to Hotstar app in our
mobile / smart TV / Website with our Registered Mobile Number. An OTP (One Time Password) will be sent to the mobile number which is registered with BSNL. Customers need to enter the OTP received on their mobile number in Hotstar mobile app / Website / Smart TV enjoy premium contents absolutely free.


An important thing to note here is that, for activating Hotstar Premium, Mobile Number must be the same Registered
Mobile Number maintained in BSNL Self care Portal.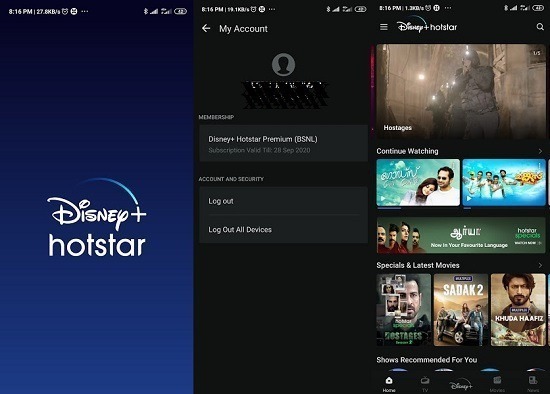 Step by step procedure for BSNL Free Hostar Premium Account activation

Open Hotstar app in your mobile / Smart TV or hotstar.com website in your desktop/laptop.

Click Login.
Enter your Mobile Number (Submit your registered number with BSNL Superstar broadband/FTTH account).
Submit 4 digit OTP received from Hotstar.
After submitting the received OTP, you are successfully logged into the Hotstar Premium account.
Click My Account on the login bar and check the bundle subscription details under 'My Account' link to see BSNL Hotstar Premium account Membership validity.
FAQs on BSNL Hotstar Premium Account Activation
Is it possible to change my current broadband / Bharat Fiber plan to Super Star 300 / Super Star 500 plan to avail Free Hotstar Premium subscription ?
Sure. You can change your current broadband / Bharat Fiber (BSNL FTTH) plan to Super Star 300 / Super Star 500 as per your choice. To change plan, customers may submit their plan change request at their nearest BSNL Customer Service Center (BSNL CSC). Customers may also change their plan through BSNL Selfcare Portal.
Whether this Free Hotstar Premium will be provided only for online plan change request or for all?
Even if you submit your plan change (Superstar broadband) request to BSNL concerned CSC, Hotstar bundle premium subscription will be provided.
What to do, if not received SMS for Hotstar premium details?
Just approach your concerned BSNL CSC and ask them to confirm which mobile number you have registered with your BSNL Broadband / FTTH connection at the time of activation.
What it mean the account details shown as BSNL Hotstar Premium Next billing Date for one month?
If you are subscribed for monthly plan, then it is provided for one month, and if your are opted annual scheme, then the Hotstar Premium account also will show one year validity.
Is this BSNL Hotstar Premium account is available at any time or for promotional period?
This is a regular plan and available at any time for joining, and after broadband subscription, you can activate BSNL hotstar premium in all your devices at any time upto the time of your plan migration or disconnection.
I have changed my plan to Super Star 300 / Super Star 500, still I am not able to activate Hotstar Premium account.
Customers will be receiving SMS intimation from Hotstar regarding their Free Premium account only after the payment of their first bill in the Super Star plan.
Dear readers, please share this information among your friends who may need support in activating BSNL's Free Hotstar Premium account.