State run telecom major, BSNL has announced another attractive offer for its prepaid mobile customers in all the circles. As per the latest information,

My BSNL App

users may get 4% upfront discount for recharging BSNL prepaid mobile number of other subscriber.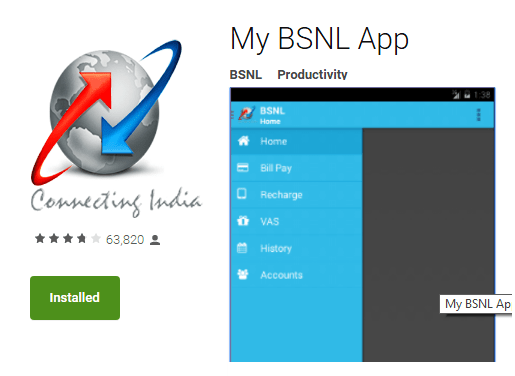 This promotional scheme is available in all the telecom circles for a period up to 30th September 2020. As Covid-19 is spreading fast in the country, BSNL launched this scheme in an attempt to help those customers who are not familiar with online recharge facilities. Under this scheme, anyone who is registered in My BSNL App can recharge any other one's BSNL prepaid number and get 4% discount for that transaction.
An official statement regarding the 4% discount scheme read as follows :-
The competent authority has decided to offer 4% upfront discount to users of My BSNL App for recharging BSNL prepaid mobile of other subscriber till September 30, 2020 with the following conditions:-


A) Users already registered on My BSNL App will not get discount on recharge of their registered mobile number.

B) New users of My BSNL App will get discount on recharge of registered mobile number only once during the scheme period.

C) Discount shall be provided for recharge of all prepaid mobile numbers other than point A & B above.

D) Discount shall be provided upfront, hence the collected amount shall be lower up to the amount of discount.
Now any user who recharges the phone number of their friends or family or any one can earn 4% discount. This means a My BSNL App user may get direct earning of 4% on every recharge of every other number.
Dear readers, please share your views and opinions about this special discount scheme for online recharge by BSNL via comments with us.