Bharat Sanchar Nigam Limited (BSNL) launched integrated and revamped Web Selfcare Portal –
https://selfcare.bsnl.co.in/

– for managing all BSNL services under one platform. By registering in

BSNL Selfcare Portal

, a customer can manage his existing
BSNL Broadband, Fiber To The Home (FTTH), Landline and Mobile
connections.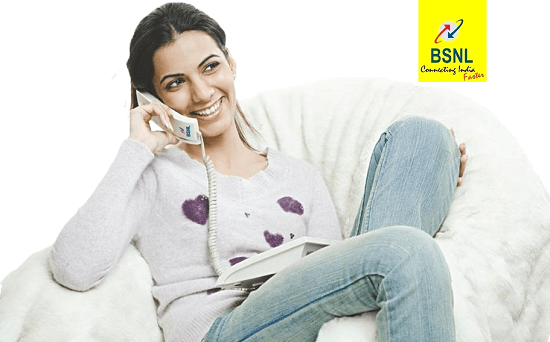 BSNL Selfcare Portal provides an online customer care service for all BSNL Services. This portal
allows users to submit request for new services,
additional facilities and also to lodge the BSNL complaint online about broadband, landline and FTTH (Bharat Fiber). The major objective of Web Selfcare Portal is the online delivery of all customer requests without visiting BSNL Customer Care or BSNL Office.
BSNL Selfcare Portal Facilities
The following are the major facilities offered through BSNL Selfcare Portal.
New Services Registration

Wings Service Booking

Track New Service Request

Check BSNL Broadband / FTTH usage

Know your BSNL broadband user id

Change Broadband Password

Email Id updation

Lodge BSNL complaint online

Download BSNL duplicate bill

Pay Your BSNL Bill Online

Change BSNL broadband / FTTH plan online

Change BSNL Landline plan online

Check bill payment history

Status of a service request

Leased circuit cost Estimation
To enjoy all these facilities user registration is required in BSNL Sefcare Portal.
BSNL Selfcare Portal Registration
User registration process is very simple. Visit https://selfcare.bsnl.co.in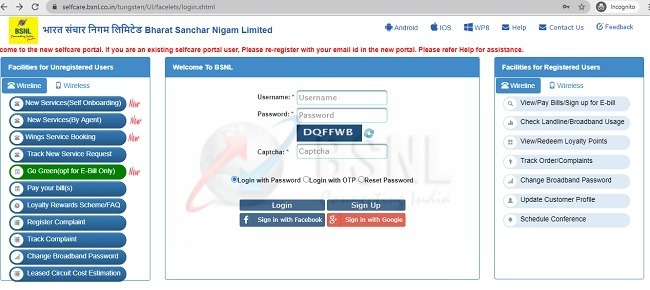 C
lick on 'Sign Up' (Your Registration page will open with three steps.)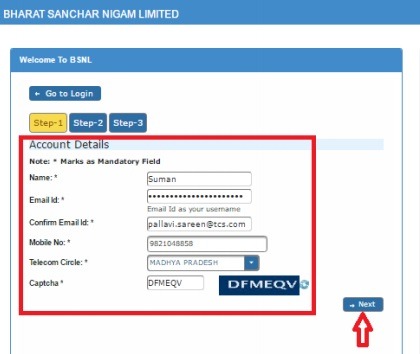 Step-1 : User needs to enter Name, Email id, Confirm email id, Mobile Number, Captcha, Telecom circle
and click on "Next" button.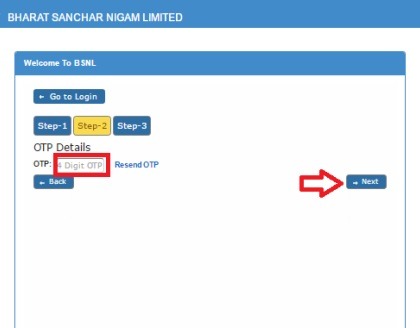 Step-2 : After clicking on "Next". A four digit OTP is sent to the mobile number entered during sign up (Step-1).
Enter the OTP received in the OTP field .
If OTP is not received, click on Resend OTP.
Click on Next and move to Step-3.
Step-3 : Set Password – Provide a strong password as per password policy (that is, password should be
minimum eight characters and should contain alphanumeric characters). Then, enter password in the Confirm Password field. Ensure that the password entered matches with
the password entered in the Password field.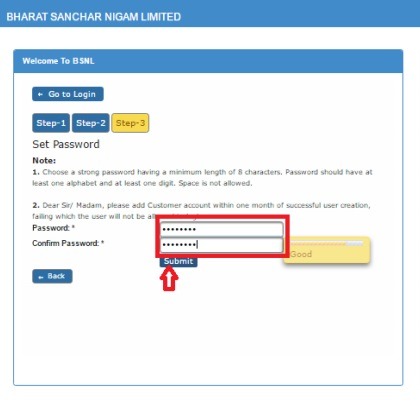 Click Submit. A verification link is sent to the user's email id. After successful verification of email
id, user is able to log on to the BSNL Selfcare Portal through that email id and password set by the user at the time of sign up.
Adding Accounts to BSNL Selfcare Portal
After registration, a customer can add existing BSNL Wireline & Wireless accounts in Selfcare Portal.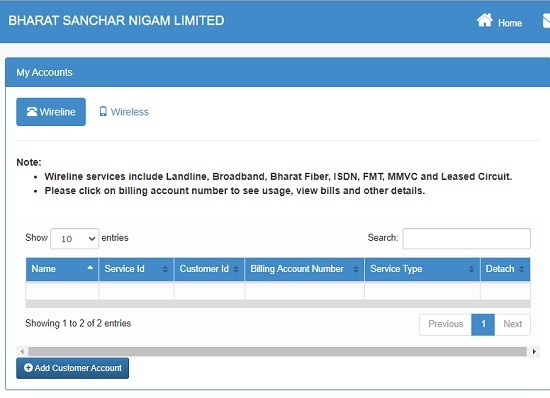 After login, select My Accounts and then
Click on 'Add Customer Account'.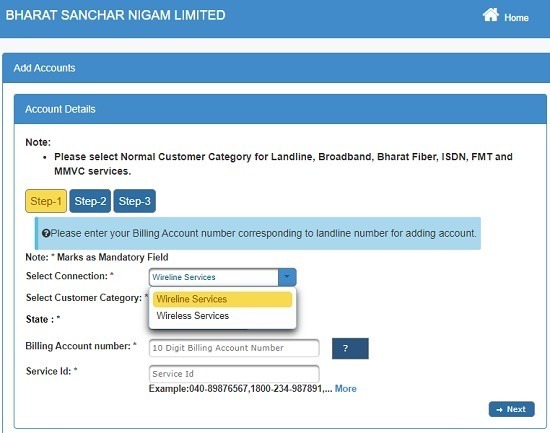 Adding BSNL Landline / Broadband / FTTH Account
If a customer is having a fixed line connection i.e., Landline / Broadband / FTTH (Fiber Broadband), then select connection as '
Wireline Service
'.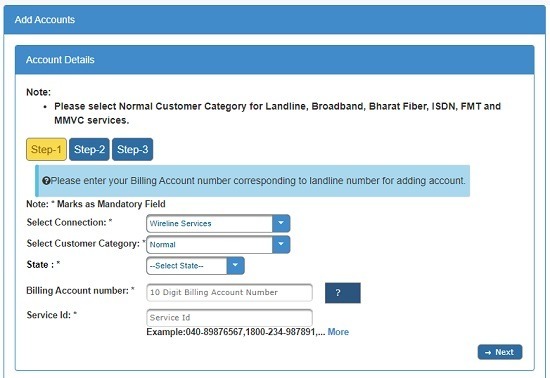 In Step-1, select customer category, state, billing account number and Service ID and click on next and complete the proceed to Step-2.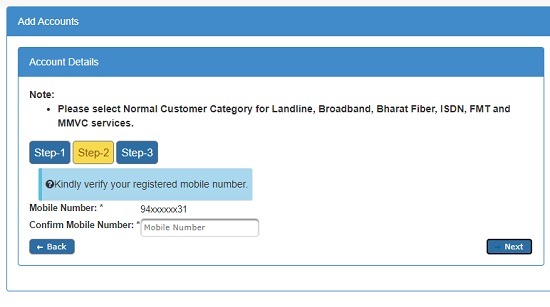 In Step-2, Confirm the mobile number by entering the 10 digits of the mobile number which was associated with the fixed line service. In Step-3, an OTP will be sent to that number and it has to be entered to complete the process.
Adding BSNL Prepaid / Postpaid Mobile Number
If a customer is having BSNL Mobile connection i.e., Prepaid / Postpaid, then select connection as 'Wireless Service'.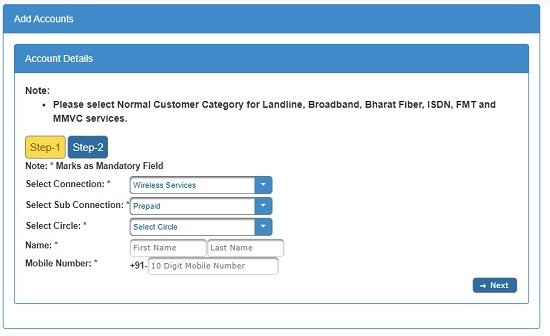 In Step-1, select Sub connection (Prepaid/Postpaid), Select Circle, Name and Mobile Number click on next and complete the process up to Step-2. In Step-2, an OTP will be sent to the mobile number which needs to be entered in the portal to complete the process.
On the first step, you have to register on BSNL Selfcare portal, and as a registered user, you can check BSNL broadband / Bharat Fiber data usage and landline customer details as on date.
Read More About BSNL Selfcare Portal :-
FAQs on BSNL Web Selfcare Portal
Who can Register Selfcare Portal?
Only the active subscribers of BSNL services (BSNL FTTH, Broadband, Landline, Prepaid Mobile, Postpaid Mobile) can register at the Selfcare portal.
How much time will it take for activation of online selfcare account?
After registration, Your BSNL customer care portal account will activate immediately.
Are there any charges to access this online service?
This Selfcare application is absolutely a free service for all active customers. Also, there are no hidden fees in any mode.
Is this Portal separate for all zones in India?
Previously there are four types of BSNL customer care portal to access the online services. All are different for each zone. At present, those all migrated to one upgraded Selfcare portal.
Dear readers, please share your views and experiences about BSNL Services via comments with us. How many of you are using BSNL's Online Selfcare Portal?