BSNL has commercially launched its much awaited

IPTV (Internet Protocol Television) services

for its FTTH (Fiber Broadband) customers. As per the latest information, the service is launched in Kerala Telecom circle on today the

27th of August 2020.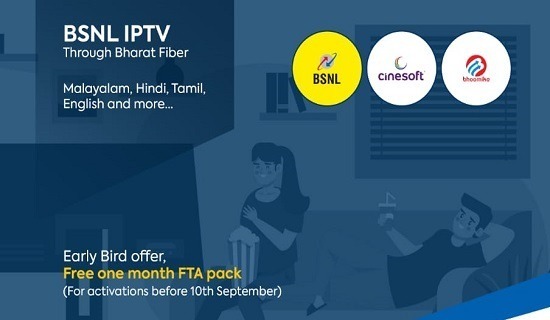 The service is initially launched in Ernakulam, Alappuzha and Thrissur districts on trial basis. The trial period will be from 27-08-2020 to 31-10-2020. As an initial offer, BSNL customers in these cities who are registering for IPTV service on or before 10th September 2020 can enjoy one month free subscription to FTA (Free To Air) channels.
M/s Cinesoft will act as a technology partner while M/s Bhoomika Digital will serve as a content partner for BSNL IPTV Services in Kerala Circle. It was also said that the BSNL IPTV users can access the service on the Android Box, Android TV and mobile. BSNL also announced that, user friendly packages will be launched very soon for its IPTV customers.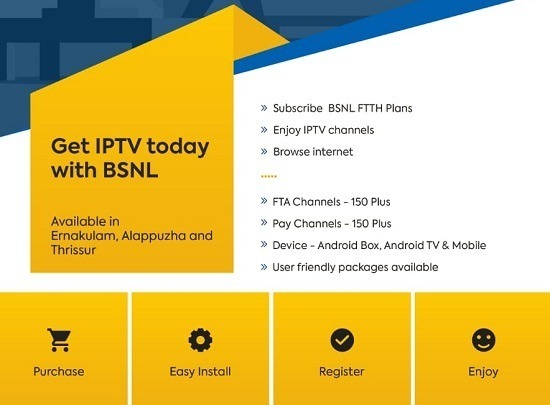 How to Register for BSNL IPTV Service?
BSNL has opened a dedicated portal –
https://fms.bsnl.in/iptvreg
for the Bharat Fiber/FTTH customers to register for the IPTV service. The dedicated portal enables BSNL FTTH customers in Ernakulam, Alappuzha and Thrissur along with the BSNL FTTH customers across India to register for the IPTV service. The BSNL FTTH customers are required to submit the Bharat Fiber/FTTH phone number along with the email and mobile number to register for the IPTV service.
As we reported in the last month, BSNL launched Online Portal –

'Book My Fiber'

@

http://bookmyfiber.bsnl.co.in/

for taking customer request for BSNL Bharat Fiber (FTTH) connection.
Customers who wish to avail BSNL FTTH service may register in this portal by providing his/her name, mobile number, email address. After entering details in BSNL 'Book My Fiber' portal, an OTP will be sent to the customer mobile number for verification and the same has to be entered in portal for submitting his request.
Dear readers, please share your views and opinions about the much awaited BSNL IPTV Service via comments with us. How many of you are currently using BSNL FTTH services.?