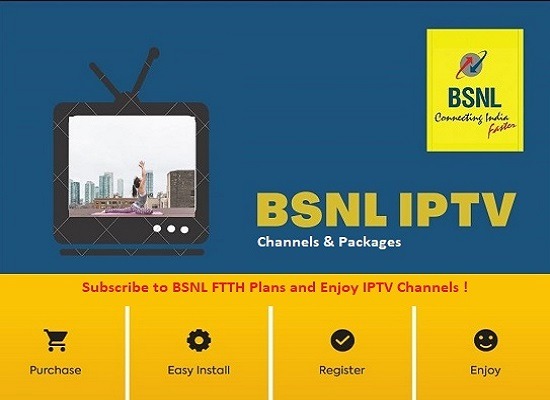 In addition, customer may also enjoy pay channels as his / her choice. As per the latest information, BSNL announced two starter plans priced at Rs 100 and Rs 200 in addition to the 150+ FTA channels. Customers may bundle any of these two plans with the FTA channel pack of his choice. It includes Malayalam, Hindi, Tamil, English channels and other regional channels and sports channels.
BSNL IPTV Tariif Plans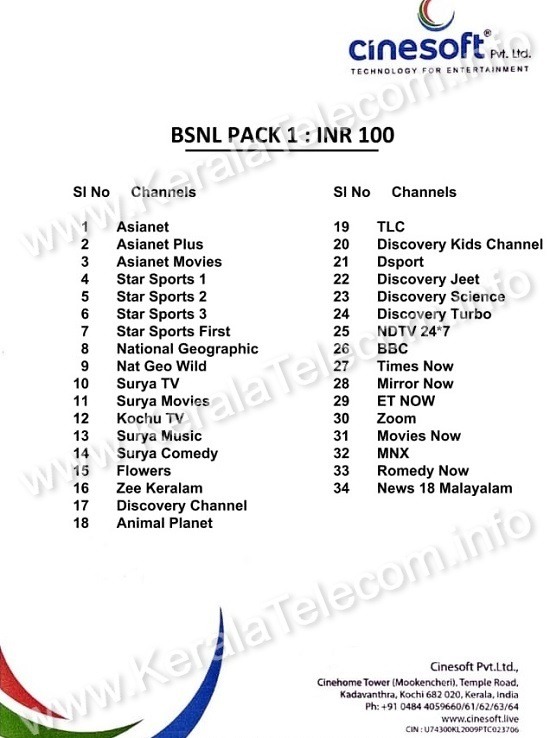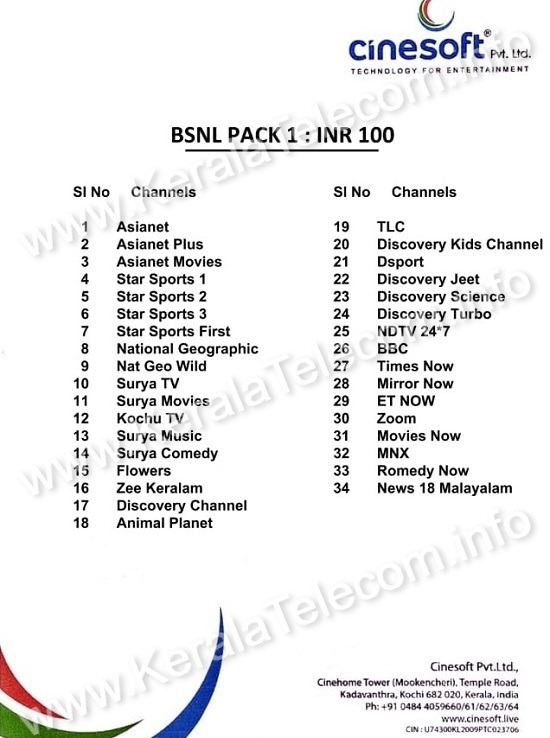 BSNL IPTV Pack Rs 100 offers 34 pay channels.

It includes the following Malayalam channels – Asianet, Asianet Plus, Asianet Movies, Surya TV, Surya Music, Surya Comedy, Kochu TV, Flowers, Zee Keralam & News 18 Malayalam. Sports channels like – Star Sports 1, Star Sports 2, Star Sports 3 and News channels like – NDTV 24×7, BBC, Time Now etc are also included in this pack.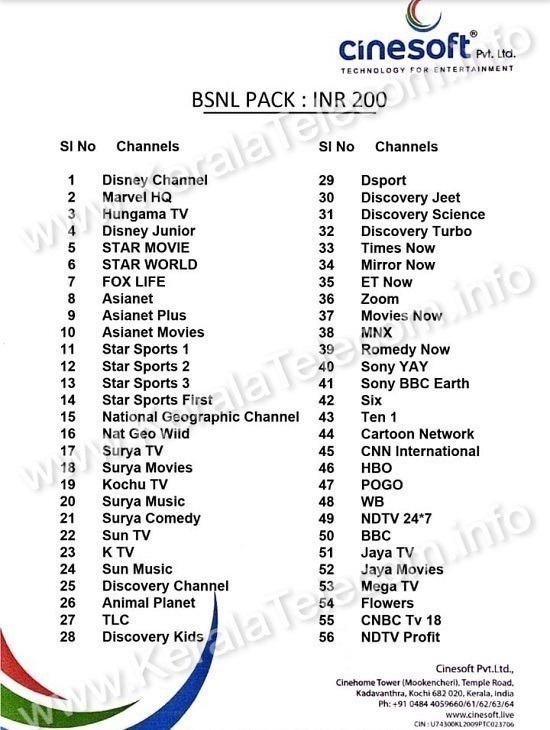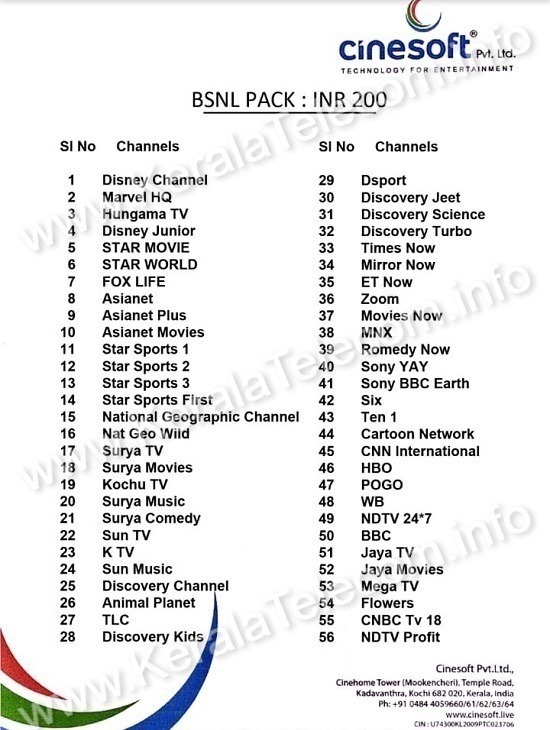 BSNL IPTV Pack Rs 200 offers 56 pay channels.
Some of the channels included in this pack are : Asianet, Asianet Plus, Asianet Movies, Surya TV, Surya Music, Surya Comedy, Kochu TV, Flowers, Star Sports 1, Star Sports 2, Star Sports 3, Sun Music, HBO, POGO, Discovery Channel etc.
BSNL is in the process of preparing attractive and user friendly tariff plans for IPTV services.
It is expected that more new
IPTV packs will be added within a couple of weeks.
M/s Cinesoft is the technology partner and M/s Bhoomika is the content provider for BSNL IPTV services.
BSNL is also planning to launch to a bouquet of value added services like new movie releases, online education channels, videos on demand services, zero latency gaming, home automation, cloud services, video conferencing solutions etc
through this platform.
It is also reported that, Special discount coupons and discounted IPTV tariff are also launching very soon for existing customers in higher BSNL FTTH plans like 1277, 1999 etc.
How to Activate / Register for BSNL IPTV Service?
Currently, BSNL IPTV service is available to customers in Ernakulam, Alappuzha and Thrissur districts. BSNL customers in these cities who are registering for IPTV service on or before 10th September 2020 can enjoy one month free subscription to FTA (Free To Air) channels.
BSNL has opened a dedicated

Portal for IPTV Registration –

https://fms.bsnl.in/iptvreg for the Bharat Fiber/FTTH customers. The dedicated portal enables BSNL FTTH customers in Ernakulam, Alappuzha and Thrissur along with the BSNL FTTH customers across India to register for the IPTV service. The BSNL FTTH customers are required to submit the Bharat Fiber/FTTH phone number along with the email and mobile number to register for the IPTV service.
Advantages of BSNL IPTV as compared to OTT / Cable TV/DTH service.
BSNL IPTV uses dedicated MPLS backbone and hence the service assurance will be maximum. Moreover, BSNL
is providing dedicated path for IPTV content which will not affect normal internet browsing / data usage. It means, a 100 Mbps FTTH customer can surf / download at 100 Mbps speed and watch HD channels simultaneously. The data usage for IPTV service will not be added or clubbed with BSNL FTTH tariff plan. Customers may also watch their favorite TV channels on their mobile phones / tab / TV.
Another attraction with IPTV service is the absence of Carrier charges /
Network Capacity Fee (NCF).
Unlike Cable TV / DTH, BSNL IPTV customers need not pay any carrier charges / Network Capacity Fee (NCF). In Cable TV/DTH, there is real time transmission of all the TV channels up to the customer St Top Box (STB) whereas in IPTV, channels will be served to a customer on-demand from nearest IPTV cache server.
As per latest TRAI guidelines, the NCF charges for 200 channels will be Rs 130 plus taxes per month. In addition to that, a DTH/Cable TV subscriber has to pay Rs 25 for every bundle of 20 additional channels added to his subscription.
Reasons to Choose BSNL as your FTTH provider.
BSNL is the only operator in India to have such a strong and robust Optical Fiber backbone which spread across the nook and corner of the country.
Recently
, Prime Minister Shri Narendra Modi inaugurated BSNL's submarine optical fiber cable project (CANI) from Chennai to Andaman and Nicobar Islands.
What BSNL actually lacks was the inability to extent last mile optical fiber connectivity to customers. In order to overcome this issue, t
he PSU has made revenue share agreements with Telecom Infrastructure Providers (TIPs) and Local Cable Operators (LCOs) so that the service provisioning and maintenance will be done by these TIPs/LCOs.
With these agreements, the PSU was able to add millions of new FTTH broadband customers during this pandemic period. Now customer may also register for BSNL FTTH broadband through BSNL's Book My Fiber portal. BSNL FTTH is the best fiber broadband service currently available with superior quality and assured bandwidth. With the launch of ITPV, customers may enjoy True Triple Play services – Voice, Video & Telephone seamlessly.
Dear readers, please share your views and experiences about BSNL FTTH services via comments with us. How many of you have already shifted from other private ISPs to BSNL FTTH so far?