In accordance with the telecom regulatory authority of India, TRAI guidelines
named as TCCCPR 2018, all the business entities who want to send commercial
communication to their customers, have to register themselves as Principal entity
mandatorily on

BSNL DLT portal
https://www.ucc-bsnl.co.in/
All Headers/SMS Sender
IDs/numbers, from which they want to send Commercial communication along with
call and SMS content templates must also be registered. Commercial communication
without registration and not using the headers, assigned to them, may violate the
provisions of the TRAI.
All existing subscriber consents may be submitted and consent acquisition & validation process may be initiated through the portal. All future consents will be obtained, verified and recorded digitally only.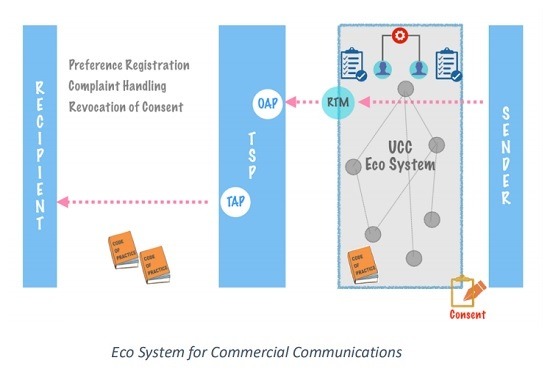 All commercial communication will be pre-verified with the subscriber's
preference and/or consent before being diverted to them.
All these actions will serve
to protect sanctity and authenticity of the commercial communication being sent to
the subscribers by the senders.
For details of the regulations, please
visit the below link –
https://trai.gov.in/sites/default/files/RegulationUcc19072018_0.pdf
All the existing and new business entities who wish to use Bulk SMS / OBD (Out Bound dialing) should register in BSNL DLT portal as Principal entity to comply with TRAI's TCCCPR 2018 guidelines.
Dear readers, please share your views and opinions about TRAI guidelines on unsolicited commercial communications via comments with us.