BSNL has launched

'BookMyFiber'

portal at http://bookmyfiber.bsnl.co.in for taking customer request for Bharat Fibre (BSNL FTTH – Fiber Broadband) connections.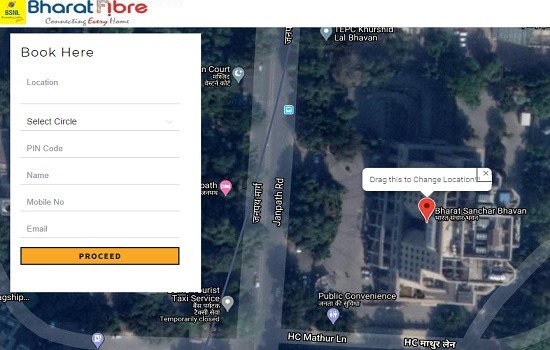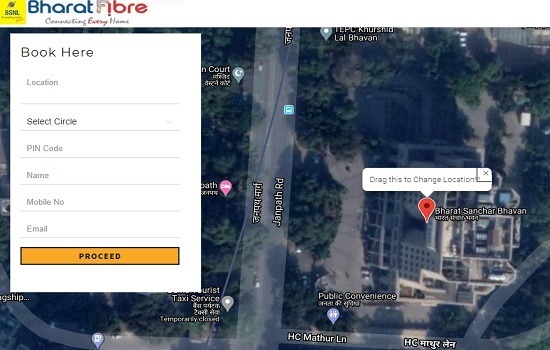 Customers who wish to avail BSNL FTTH service may register in this portal by providing his/her name, mobile number, email address. After entering details in BSNL 'Book My Fiber' Portal, an OTP will be sent to the customer mobile number for verification and the same has to be entered in portal for submitting his request.
T
he portal will
automatically captured the latitude, longitude of the customer as per the information
shared by the customer's mobile.
This FTTH lead information having the geo-coordinates of the customer is passed on to
the BSNL FMS Portal for provisioning of FTTH connection to the customer.
In the FMS portal, the geo-tagging of all the BSNL and BSNL Franchisee OLTE has been already done.
Book My Fiber portal

can be used by customers in all the telecom circles to register for BSNL Fiber Broadband Service. There is tremendous demand for BSNL FTTH Broadband service all over the country since it has superior quality of service as compared to other service providers. Recently BSNl launched many attractive FTTH broadband plans – one of them is a 200 Mbps Ultra Fast FTTH plan which allows 1500GB data @ just Rs 1999/-.
Dear readers, how many of you have already availed BSNL FTTH Services? Please share your feedback about its performance via comments with us.