National telecom backbone – BSNL has announced the revision in data freebies of one of its most popular prepaid plans – BSNL Sixer Plan (Plan Voucher ₹666) –

from 1GB/Day to 2GB/Day.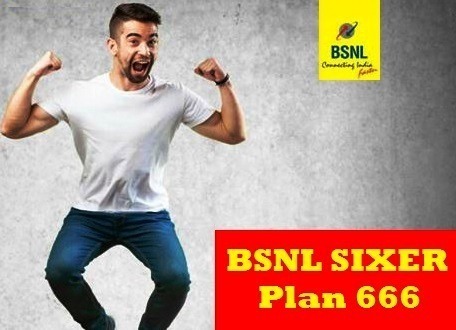 BSNL Plan Voucher 666 (PV-666) offers Unlimited Data 2GB/Day (after 2GB/Day, speed will be reduced to 40Kbps) + 250 mins/day any network calls including Delhi and Mumbai + 100 SMS/day to any network. The validity of freebies and plan will be 120 days
from the date of recharge
for Kerala Circle.
Revised Freebies of BSNL Sixer Plan 666 with effect from 23-12-2019 on wards
MRP of PV in Rs (Incl GST)

Revised Freebies / Features

Validity in Calendar Days
Mode of Activtion

PV 666

(Plan Voucher 666)

250mins/day any network Voice Calls (Home / National Roaming including Delhi & Mumbai)

+

Unlimited Data (speed reduced to 40Kbps after 2GB*/Day)

+

Free 100 SMS/Day any network

120

Through C-Top Up / Portal / Selfcare

SMS Format PLAN BSNL666 to 123

USSD: *444*666#
*2GB/day applicable for new customers only. i.e New customer who subscribes PV 666 from 23-12-2019 will get 2GB/Day till the end of freebies validity.
All other terms & conditions with respect to Plan Voucher 666 remain same.


Some of the recent changes with BSNL Prepaid Mobile Plan Vouchers are listed below for your quick reference:-
Dear readers, please share your views and opinions about BSNL's Sixer Plan 666 via comments with us.