Bharat Sanchar Nigam Ltd. (BSNL) has announced to offer 'Free Voice Calling' within India for existing BSNL Landline, Landline Broadband and Mobile customers. This offer is available on

'Wings'

service of BSNL.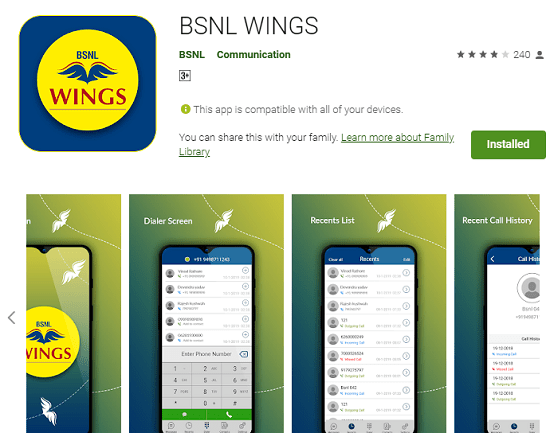 'Wings' is a combination of voice over IP (VOIP) and landline service of BSNL. Under this service, a customer can make or receive calls using a BSNL 'Wings' app on his/her mobile handset. Under this service there are no charges for national roaming. All incoming calls from India are free even while roaming internationally. When outside India, calling from 'Wings' to India will cost only Rs.1.25/- per minute.

To avail this service, only a click at website i.e. www.bsnl.co.in is required to start the process of registration (by clicking 'WINGS SERVICE BOOKING').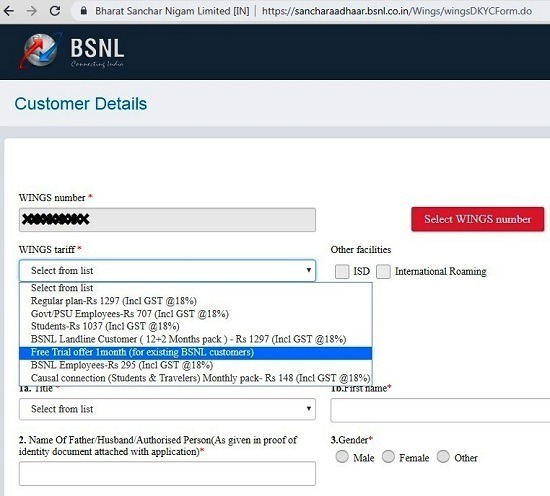 After receiving user name and password (PIN), user can download BSNL 'Wings' app from Google Play store, input user name and password and start making calls. The service is very useful, as a 'Wings' user will never miss an incoming call in case he is hooked to Wi-Fi. Calls forwarded from any BSNL number to 'Wings' number are totally free.
Different Tariff Plans for BSNL Wings Service in Online Portal are: –
1.

Regular Plan – Rs 1297/-

(Incl GST @ 18%)
2.

Govt/PSU Employees – Rs 707/-

(
Incl GST @ 18%)
3.

Students –
Rs 1037/-

(
Incl GST @ 18%)
4.

BSNL Landline Customers (12 + 2 months pack) –
Rs 1297/-

(Incl GST @ 18%)
5.

Free Trial Offer 1 month

(for existing BSNL Customers)
6.

BSNL Employees – Rs 295/-
(Incl GST @ 18%)
7.

Casual Connections (Students & Travelers) – Monthly pack Rs 148/-
(Incl GST @ 18%)
In addition to the above plans, BSNL launched some other special packs for BSNL Wings Service which are given below:-
1.

Wings 98

(M
onthly rental of Rs. 98 per month for minimum contract period of 3 months)
2.

Wings 49
(Telecom Infrastructure providers who have made agreement with BSNL may provide Wings to its customers at Rs. 49/- per month per customer to offer voice along with broadband).
Dear readers, please share your views and opinions about BSNL Wings VoIP Service via comments with us.