State run telecom major, BSNL has introduced tariff for temporary WiFi Hotspot connection. The tariff is applicable for bulk user WiFi services being provided through HSSPs (Hot Spot Service Providers) and
BSNL WiFi offload 4G plus project in all the Circles.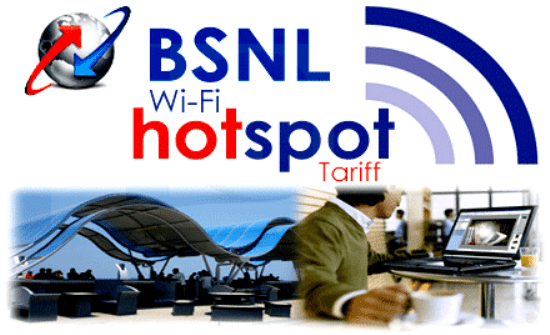 BSNL will charge just Rs 1485/- as bandwidth charge for a temporary WiFi Hotspot with 2 Mbps bandwidth for 7 days. For a 4 Mbps WiFi Hotspot, Rs 2723/- will be charged and Rs 5500/- for a 10 Mbps. For first hotspot, an installation charge of Rs 10,000/- also has to be paid in advance.
Tariff for temporary bulk user WiFi Hotspot connection
Particular
Temporary WiFi Hotspot Tariff
Charges for Backhaul Bandwidth to Hotspot location
2 Mbps
Rs 1485/-*
4 Mps
Rs 2723/-*
10 Mbps
Rs 5500/-*
Installation Charges
10000/- for First Access Point (AP), Rs. 1500/- per additional AP
Security Deposit
Rs 5000/-
Minimum Hire Period
One Week
Note:
*Above Backhaul Bandwidth charges shall be levied for minimum weekly basis for the service of upto 7 days. In case of requirement for more number of days beyond 7, above Backhaul charges may be offered to the customer in multiple.

Backhaul connectivity charges from nearest media end point will be additional.

The GST shall be extra as applicable.
All other terms and conditions shall remain the same.The above instructions are effective with immediate effect in all the Circles. Revenue share with HSSP shall be shared as per agreement.

Read More: BSNL to revise Unlimited Broadband Plans to GB/Day plans in all the circles with effect from 1st December 2018
Dear readers, please share your views and opinions about BSNL WiFi Hotspot Services. How many of you are using BSNL 4G plus WiFi offloading services?