State run telecom major, BSNL has announced the introduction of

RENT FREE ASEEM

facility to the existing landline customers shifting over FTTH Service PAN India basis.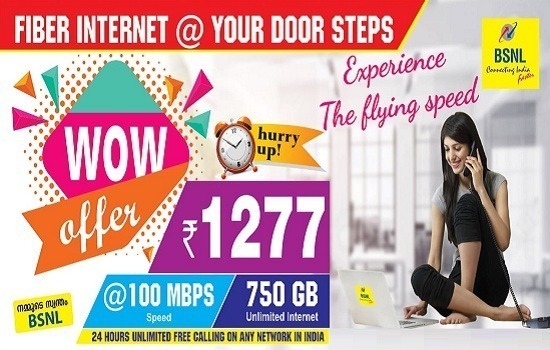 As per the latest information, BSNL will be offering rent free ASEEM facility to existing landline/broadband customers who wish to migrate to BSNL's Ultra Fast Fiber Broadband Services. This scheme is available to BSNL customers in all the telecom circles with effect from 19-11-2018 on wards.
What is BSNL ASEEM Plan?
In ASEEM plan, customers may choose a landline number (fixed line indicator) as per his/her choice and all incoming calls to this landline number will be automatically forwarded to one number of any networks of subscriber choice without any additional cost implication.
Rate for ASEEM plan is Rs 99/-
(in case the destination number is of BSNL)
or Rs 199/-
(in case the destination number is of Any other telecom service provider)
for six months.
After the introduction of new 100 Mbps FTTH Plans like Fibro Combo ULD 777 & 1277, more and more landline broadband customers are getting migrated to BSNL's Fiber Broadband Services. At present, an existing landline broadband customer is not allowed to retain his/her number
while switching
over to BSNL FTTH (Fiber Broadband Services).
To overcome this problem, BSNL has launched this Rent Free Aseem Facility. Here, an existing BSNL broadband customer may get all his/her incoming calls to the old landline number automatically routed to his/her new BSNL FTTH Number absolutely free for six months. This scheme will be highly beneficial to all the existing BSNL Broadband customers since they might have been using their landline number for quite a long period of time.
Dear readers, please share your views and opinions about this latest offer from BSNL via comment with us. How many of you have already availed to BSNL FTTH Services? Are you getting enough speed ?