BSNL – India's largest wired broadband operator has announced the regularization of its most popular and attractive FTTH Broadband plans

'Fibro Combo ULD 777'

&

'Fibro Combo ULD 1277'

in all the circles.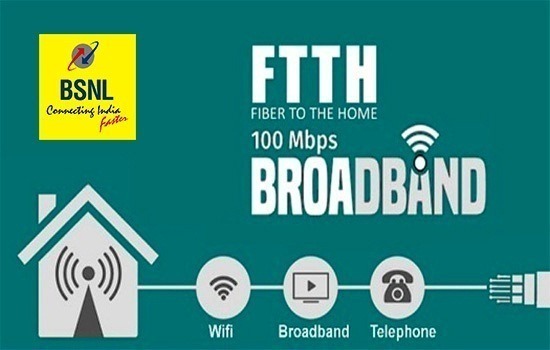 As per the latest information, both these plans will be available for new as well as existing customers with effect from 07-09-2018 on wards. BSNL FTTH plan
777
offer 50Mbps speed till 500GB whereas
BSNL FTTH plan
1277 offer 100Mbps speed till 750GB. Both plans offer unlimited voice calls to any network and post FUP download speed of 2Mbps.
As we reported earlier, BSNL launched these promotional FTTH plans on 12th June 2018 for a period of 90 days. Now based on the encouraging response from customers, BSNL authorities has decided to make these plans as regular plans for all existing and new customers in all the circles except Andaman & Nicobar circle.
BSNL's 50Mbps & 100Mbps Fiber Broadband (FTTH) Plans
Particulars
Fibro Combo ULD 777
Fibro Combo ULD 1277

Bandwidth (with best effort Download Speed), subject to technical feasibility

Upto 50 Mbps till 500 GB, up to 2 Mbps beyond

Upto 100 Mbps till 750 GB, up to 2 Mbps beyond

Applicability

All users in all circles (except A&N circle).

Annual Payment Option (Rs.) [11 x FMC]

Two Years Payment Option (Rs.) [21 x FMC]

Three Years Payment Option (Rs.) [30 x FMC]

Download/Upload Limit (MB/ GB) per month

Free E-mail IDs/Space (Per E-mail ID)

Static IP Address (On Request)

One @ Rs 2000 per annum additional

Security Deposit#

Minimum Hire Period

Telephone fixed monthly charges in Rs

Free Calls & Additional facility

24 Hrs Unlimited calling (Local + STD) on any network within India
#Note: Under above Broadband plan, Security deposit for Landline shall be levied as per prevailing instructions.


The above plan shall be effect with effect from 07-09-2018 on regular basis in all the Circles (except A&N Circle).All other terms and conditions shall remain the same. BSNL already revised its entire range of DSL/FTTH Broadband plans with effect from 01-09-2018 on wards.Click Here To See More Details
Dear readers,please share your views and opinions about this latest news from BSNL via comments with us.