BSNL launched

prepaid international roaming service

to major traveller destinations like Saudi Arabia, UAE, Oman, Canada & USA.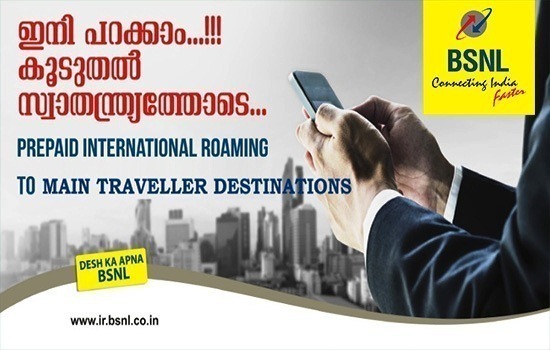 As per the latest information, BSNL prepaid mobile customers may get services in 14 foreign countries at present. Customers may get their existing SIM card replaced with BSNL Prepaid International Roaming enabled SIM cards from customer service centres.
As on date (05-08-2018), BSNL launched Prepaid International Roaming in the following 14 countries:
Saudi Arabia

UAE

Oman

USA

Canada

Japan

Hong Kong

Bangaladesh

Sri Lanka

Nepal

Myanmar

Ukraine

Mozambique

Ethiopia
How to activate BSNL's Prepaid International Roaming in your existing number?
Visit your nearest BSNL customer service centre with a copy of your ID proof or Aadhar number and submit request for prepaid international roaming enabled SIM card.
How to get detailed tariff and coverage for Prepaid International Roaming?
Visit http://ir.bsnl.co.in for latest tariff and updated list of countries. BSNL offers both voice and data international roaming facility in prepaid.
Some Useful Tips for BSNL Mobile International Roaming Customers
If you encounter any difficulties while roaming abroad, you can book your complaint at www.ir.bsnl.co.in Or Call +919434024365

Check the Handset compatibility with Network frequency (GSM MHz 850/900/1800/1900) before traveling outside India and make sure that your handset will work in the country you are traveling to Japan & Korea support 3G Hand Set, USA & Canada supports 1900 MHz Hand Set.

To call back home dial the number with prefix +91

Certain Data / GPRS based applications viz. GPS, Facebook, Blackberry messenger or any other instant messaging application etc. continuously consume data bandwidth leading to high Data Roaming charges even when you are not using the same. This is applicable to smart phones and high end GPRS capable handsets which poll (communicate with) the home network continuously. We advice you take an informed decision to keep these applications switched-on, while you are overseas. For any assistance in the matter, please call our customer helpline.
Dear readers, please share your views and opinions about BSNL's Prepaid International Roaming facility via comments with us.