BSNL Kerala Telecom circle has announced Mela Special Offer of FREE Prepaid SIM cards (Normal/Micro/Nano) to New & MNP (PORT IN) customers till 31st March 2018.
FREE SIM Offer will be available in all BSNL Customer Service Centres and BSNL Retailer outlets throughout Kerala.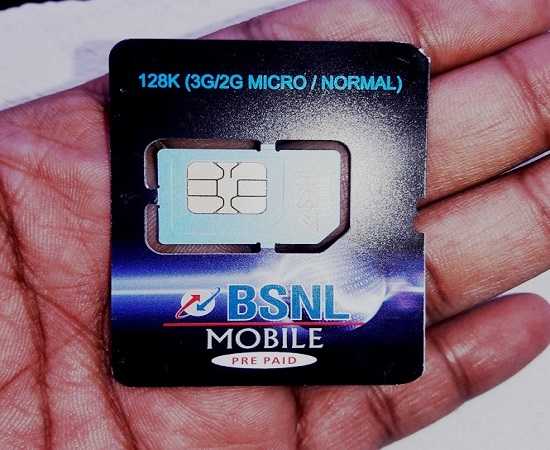 During this period, customers may get New BSNL Prepaid SIM cards absolutely FREE. The offer is also applicable to MNP (PORT IN) customers. Recently launched Kerala Plan, Unlimited Voice & Data Offers – MAHA PLAN & PLAN MAXIMUM are getting very popular among youth since it is better than Jio's prime membership plans.
Details of BSNL Free Prepaid SIM Offer till 31-03-2018
Free SIM Card worth Rs 10/- will be offered to both New as well as PORT IN customers of BSNL [The offer is applicable to 32K – 128K Normal SIM / Micro SIM / Repluggable (Smart SIM) SIM / Nano SIM /Repluggable 3 in 1 SIM.]
Customers taking new BSNL Prepaid Mobile connection may pay only the Plan Voucher charges during this period. Plan vouchers are used to enroll prepaid mobile customers in a specific tariff plan.
Details of currently available Plan Voucher Denominations for Prepaid Mobile Customers are listed below:
Sl No
Plan Name
Plan Voucher Denomination (in Rs)
Freebies with Plan voucher
Plan Validity
1

BSNL Kerala Plan

446

Unlimited Calls to any network for 84 days + Unlimited Data (1GB/Day) for 84 days

180 Days
2
Freedom Plan
136

1 GB Free 3G/2G Data

,

Data Charges without STV: 40paise/MB

Call Rate: All Calls@ 25ps/min (For the First 60 Days)

Special Combo STVs with Full Talk Value + Free Data

Two Years
3

BSNL MAXIMUM 999 PLAN

999

Unlimited Voice Calls to Any Network* + Unlimited Data, 1GB/Day + 100 free SMS to any network for first 181 days

One Year
4
Mithram
49
Talk Time worth Rs 40 + 500 MB Free 3G/2G Data

FFE Facility: 5 Local numbers @ 20ps/min (BSNL) and 40ps/min (Other N/w)

Call Rate: All BSNL Numbers @ 1.2ps/sec, Others @ 1.5ps/sec

180 Days
5
Per Second
106
Talk Time worth Rs 100 + 350 MB Free 3G/2G Data

Call Rate: All BSNL Numbers @ 1ps/3sec, Others @ 2ps/3sec, (For the First 60 Days)

180 Days
6
Per Minute
107
Talk Time worth Rs 100 + 350 MB Free 3G/2G Data

Call Rate: All BSNL Numbers @ 10ps/min, Others @ 30ps/min, (For the First 60 Days)

180 Days
7

BSNL MAHA PLAN 949

949

Unlimited Voice Calls to Any Network* + Unlimited Data, 1GB/Day + 100 free SMS to any network for first 157 days

One Year
8
Jai Jawan
113
2700 Sec BSNL Calls + 2700 Sec Other Calls + 350 MB Free 3G/2G Data
(Plan Exclusive for Pramilitary Forces)
30 Days
9

HOME PLAN

67

Unlimited Local / STD / Roaming calls to one BSNL Landline number in Kerala

180 Days