BSNL Kerala Telecom circle has decided to launch a new promotional prepaid mobile plan –

HOME PLAN @ just Rs 67

/- with Unlimited voice calls to one landline number even from roaming.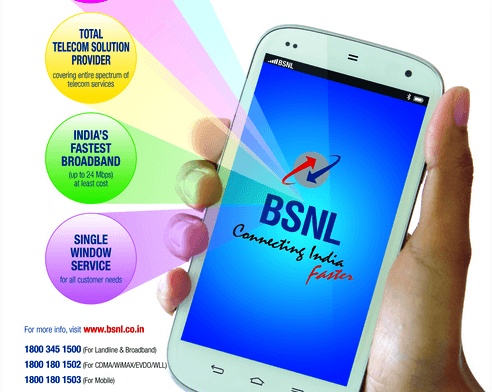 As per the latest information, HOME PLAN will be exclusively available to BSNL Kerala customers from 8th February 2018 on wards. The plan will be available till 31st March 2018 for subscription. Customers choosing HOME PLAN will get true unlimited voice calls to one landline number for 180 days by paying Rs 67/-.

BSNL HOME Plan : New Prepaid Mobile Plan from 08-02-201 to 31-03-2018 exclusively for Kerala Telecom Circle
MRP in Rs. (Inclusive GST)
Rs 67/-
Pulse
Paise/sec
Freebies for new connections (including MNP customers)

Talk Value : Rs 20/- in dedicated account
Free data usage : 500MB

All Freebies are applicable for the first 30 days from the date of plan activation.

Voice Call Special Benefit: Unlimited Local/STD/BSNL Roaming calls to one Kerala BSNL Landline number till plan validity.

(To avail this facility, customer has to send SMS, FFL 11Digit LandlineNumber to 123)

Voice Tariff (Home & National Roaming after freebies) (Local/STD) (On-net & Off-net)

ALL BSNL calls @ 1 Paisa/Second
ALL Other Network calls @ 1.2 Paisa/Second
Video Call charges
1.2 Paisa/Second
Friends & Family
4 Local Numbers (20ps/min to BSNL & 30ps/min to others)
Plan validity & Extension
180 Days
Can be extended by recharging plan voucher Rs 67 or deducted automatically from main account on expiry of validity, subject to balance availability
SMS (while in Home & National Roaming)
Local: 25 Paisa/SMS, National: 38 Paisa/SMS, ISD: Rs 5 / SMS
Data Charges
1ps/10KB
Always Full Talk Value
Top ups 110, 200, 500 & 1000
Applicability
All New and MNP customers, Also all prepaid STVs applicable
Migration Facility
Allowed without freebies of Rs 20 talk value & 500MB data.

Special benefit of Unlimited Voice calls to one Landline number allowed.

All other charges
As per 'Per Second Plan'
Notes:
Activation of Home Plan (Plan Voucher 67) is through FRC only.

SMS syntax for migrating to Home plan is PLAN HOME (SMS to 123).
Friends & Family numbers can be added one by one by sending SMS to 123 using the keyword FFE 10digitMobileNumber. (First being BSNL number).
BSNL has also made special arrangements to customers for selecting new mobile number which is closely matching to his/her landline number. Since the new Home plan offer true unlimited calls without any usage limit, it will be beneficial for students or people working away from home. Free calls are available even from roaming.
Dear readers, please share your views and opinions about this latest offer from BSNL via comments with us.