State run telecom giant BSNL launched 4G VoLTE dual SIM handset 'Bharat-1' in association with Micromax @ ₹2,200.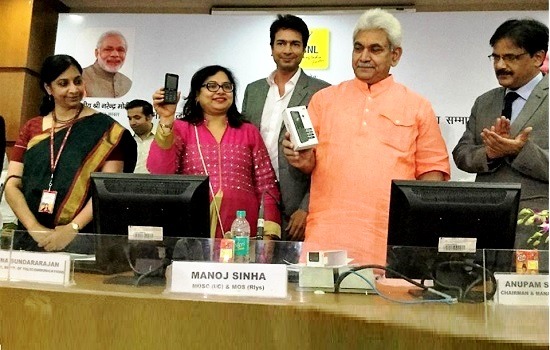 The buyers of Micromax's 4G VoLTE
Bharat phone
may enjoy unlimited calling and unlimited data @ just ₹97 per month from BSNL. T
he phone will support also support 3G mobile connection. On launching the Bharat-1 phone,
Telecom Minister Manoj Sinha
said –
"I am glad that BSNL has come with 2 new schemes. This will not only increase BSNL subscribers but also strengthen their financial position.
This is step to expand digital India mission.
"
"Both Micromax and BSNL have been working with the aim of bringing the next wave of unconnected users on the Internet. We will now take this vision forward with Bharat-1 and create a compelling proposition for users that is a first in the category," Rahul Sharma, co-founder, Micromax, said.
Bharat 1 has the latest Qualcomm 205 Mobile Platform, powered by a 2000 mAh battery, 512MB RAM and 4GB ROM, a 2.4 inch QVGA screen, 2 MP rear camera and VGA selfie camera, 4G VoLTE and Dual Sim connectivity.
Shri. Anupam Shrivastava, CMD, BSNL said – "Connecting the last mile – to the Internet and relevant information – is an important part of the strategy for both BSNL and Micromax. We are confident that Bharat-1 will help millions of users experience the data and calling experience like never before."
BSNL Micromax Bundling Voucher : For those who purchase BSNL Micromax Co-branded Bharat-1 phone
Price of Voucher in Rs. (Inclusive GST)
Rs 97/-
Freebies for new connections (including MNP customers), Migration and validity extension

Free data usage : Unlimited Data with validity of 28 days (speed
reduced to 80 kbps after 5 GB)

Free Voice Calls :

Unlimited Voice Calls

with validity of 28 days

Free SMS :

10

with validity of 28 days

Voice Tariff (Home & National Roaming after freebies) (Local/STD) (On-net & Off-net)

ALL calls @ Rs 1/min
Plan validity (in calendar days)

365 Days ( 90 days for NE,J&K and Assam Circle)

SMS (while in Home & National Roaming)
Local: Rs 1/SMS, National: Rs 1.5/SMS
All other charges
As per 'Per Minute Plan'
This plan will be implemented with effect from 17-10-2017 on PAN India basis. This plan will be applicable to those customers who have purchased BSNL Co-branded Micromax device under
reverse bundling scheme and this plan will not be made available to other customers. From 2nd month onward the Bundled Voucher with same MRP i.e. Rs 97/- (inclusive of GST) will act as STV with
unlimited voice and 5 GB data ( speed reduced to 80Kbps after 5GB) and validity of 28 days. This STV 97 will be applicable to those customers only who have done FRC (First Rechrge Coupon) of Rs 97. The SIM under this scheme will be activated through e-KYC mode only.

FAQs on BSNL New Unlimited Voice & Data Plan @ ₹97 for Micromax Bharat-1 phone
Q1: Whether Free SMS is
LOC/STD any net SMS?
Answer:
Yes, Free SMS LOC/STD on any net
Q2: Whether Free SMS /Free
VOICE is allowed in HPLMN &
BSNL ROAMING or only in
HPLMN?
Answer:
Free SMS /Free VOICE is allowed in HPLMN &
BSNL ROAMING area also expect ( Mumbai and
Delhi).
Q3: All other Tariff as per
Minute will not include the
special benefit of "Full Talk
value offer"?
Answer:
Only full talk value offer is allowed.
Q4: Whether migration to other
plans allowed?
Answer:
Plan 97 is exclusively available to customer who
purchases Micromax Device. Other customers are
not allowed plan 97. However, If a Micromax
customer who opted plan 97 may migrate to other
plan if he wishes so.
Q5: Whether the customers are to
be allowed to recharge existing
plan voucher for the first time if
they do not need PLAN97? If yes, by mistake if customer
recharges some other plan
voucher, again whether he
should be allowed to recharge
PV97 or not?
Answer:
This plan is meant for Micromax bundling purpose.
However if customer wants to recharge with another
plan voucher. He may be allowed.
Yes, but it must be ensured that it is to be done in
genuine cases only and all the terms and conditions
of the tariff are complied with.
Q6: From 2nd month onward
bundled voucher 97 will act as
STV then what about validity
extension of customer in this
plan after 365 days?
Answer:
After 365 days customer may opt any plan voucher
for validity extension.
Read More:
BSNL revises existing unlimited broadband plans to offer upto 10 Mbps & upto 8 Mbps initial download speed with effect from 1st November 2017
Dear readers, please share your views and opinions about this latest news via comments with us.