As per DoT (Department of Telecommunication) instructions,

BSNL has started linking Aadhar Number

of its existing mobile customers using e-KYC.
BSNL customers may link their Aadhar number with existing mobile connection instantly
.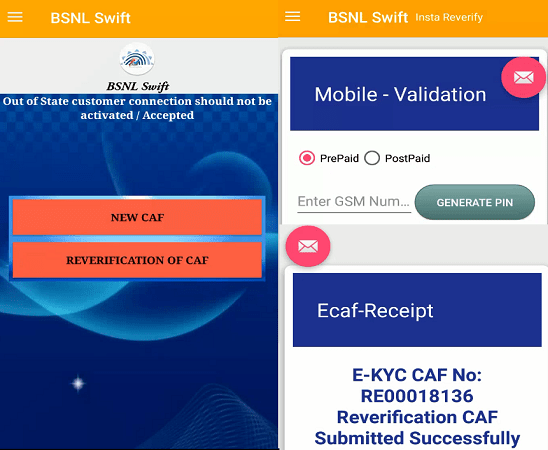 To link Aadhar number, a BSNL customer may approach any BSNL Customer Service Center or BSNL retailer shop which is having e-KYC facility. BSNL's authorized agents can link existing mobile number with Aadhar number
w
ith the help of bio-metric
fingerprint scanner. e-KYC full form is Electronic Know Your Customer, i.e., it is an authentication process to verify the identity and address electronically.
How to re-verify (link Aadhar number) existing BSNL Mobile (Prepaid & Postpaid) Connection?
Visit any BSNL outlet i.e., BSNL Customer Service Center or BSNL Retailer shop with your Aadhar Number and existing BSNL Mobile connection.

Give your existing BSNL Mobile Number to BSNL staff / agent.

After entering your details in BSNL's System (BSNL Swift App or BSNL eKYC Application), you will immediately receive a four digit PIN in your existing BSNL Mobile number.

Give that PIN & your Aadhar Number to BSNL staff / agent.

BSNL staff / agent will ask you to put your thumb on their bio-metric fingerprint scanner. Within seconds, your Aadhar data will be displayed on the screen of BSNL e-KYC App for re-verification.

Customers will be asked to verify their Address and other details which will be displayed on their system.

After your final confirmation, they will ask again to put your thumb impression on bio-metric fingerprint scanner.
After re-verification process, a confirmation SMS will send to the customer after 24 hours.
The customer needs to respond within three days to complete the registration with response 'REV YES' or 'REV NO' to 53734.
If not received any response with in time,
it will be treated as 'YES' and Aadhaar registration is
completed. If response received is 'NO' then re-verification is cancelled and customer can do re-
verification afresh, Re-verification is allowed only two times in cases of dispute/discrepancy. All the customers of BSNL prepaid and postpaid services should link their Aadhar number with existing mobile number for re-verification.
How to know whether my Aadhar number is linked with existing BSNL mobile number or not?
If customer want to know the Aadhaar registration details, he can send SMS 'REV NAME' to 53734.
What will happen If I have not re-verified or not submitted Aadhar with e-KYC?
It might be liable for disconnection of your existing mobile number, i.e., to retain your mobile number re-verify with Aadhar at the earliest.
Hon'ble Supreme Court of India has directed all telecom service providers to re-verify its all existing mobile connections latest by 06-02-2018.
BSNL Swift App is available exclusive to BSNL's authorized agents. This latest app can be used to issue new mobile connections and re-verification of existing connections.
BSNL Retailers / Agents may download latest BSNL e-KYC Mobile App & RD Device Drivers as given below:
How many of you have already approached BSNL outlets for re-verification? Please share your experience with us. If you have any doubts regarding re-verification process, please post them as comments below.