India's largest fixed line broadband service provider, Bharat Sanchar Nigam Limited (BSNL) has started offering

complimentary Pre-FUP download speed absolutely free of cost

to its unlimited broadband customers crossing their FUP usage limit.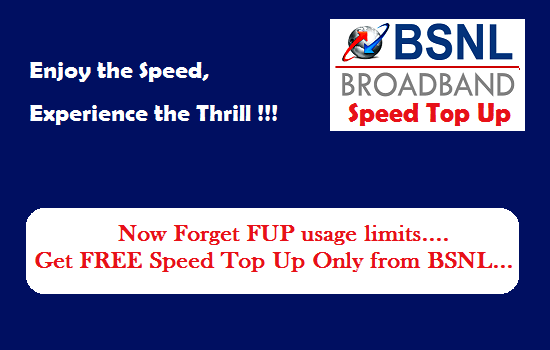 As per latest information, BSNL will be offering Free Pre-FUP download speed throughout the month

(Happy Browsing Offer)

as a promotional offer for 3 months (month after month) starting from July 2017. We have already received hundreds of queries from our readers regarding this new scheme. Customers may check BSNL's Happy Browsing promotional scheme @ http://fuptopup.bsnl.co.in/ Or http://172.30.3.136:9090
Customers are getting a message soon after they cross FUP usage limit which read as – Dear Sir/Madam,
You're very important to us. we want you to continue browsing at Higher Speeds.
However as a special customer,BSNL is retaining your Pre-FUP speed free of cost for this month.
Kind regards,
BSNL Broadband.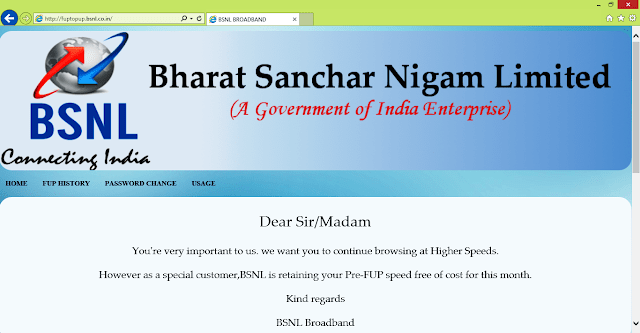 BSNL launched this promotional scheme in an attempt to prevent churning of the broadband customers to private operators and to reduce customer complaints regarding lower speed for the better customer experience towards BSNL Broadband services.
Recently, BSNL launched many customer friendly offers and schemes for its Landline & Broadband customers. Some of them are listed below for your quick reference:
Dear readers, please share your views and opinions about this latest Free Speed Top Up offer from BSNL via comments with us. How many of you have already got this exciting offer from BSNL?