National telecom backbone, Bharat Sanchar Nigam Limited (BSNL) has announced the launch of special discounts and promotional offers exclusive for new customers those who are booking their landline, broadband and FTTH (Fiber Broadband) connections through BSNL's Official Social Media platforms.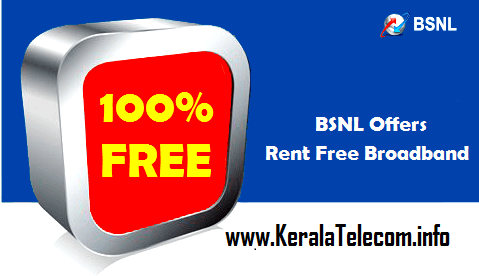 As per the latest information, customers may avail

One Month Free High Speed Broadband Internet service from BSNL

starting from 2nd June 2017 on wards. Customers may choose any of the existing landline / broadband / FTTH plan as per their requirement. The only condition to avail free broadband from BSNL is – all new customers should apply for new BSNL Landline / Broadband / FTTH connections through BSNL
social media (Facebook / Twitter) pages.
Details of BSNL Promotional Scheme for booking of new landline, broadband and FTTH connections through Social Media platforms
To promote BSNL services on social media, the competent authority has decided as follows:-
To waive off fixed monthly rental charges under Landline / DSL / FTTH plan for the first month only, for the customers booked through social media (Facebook/Twitter) on PAN India basis on promotional basis for a period of 90 days.
Separate link will be created by BSNL on Social media platforms ( Facebook & Twitter ).
This promotional scheme shall be applicable with effect from 02-06-2017 in all the circles on promotional basis for a period of 90 days. BSNL already launched 20Mbps Unlimited FTTH Broadband plans 1045 & 1395 exclusive for all customers in Kerala Circle. So this is the right time for Kerala Customers to apply for new BSNL FTTH connections availing One Month Free Rental. BSNL's Unlimited & Limited Broadband plans are the most economical and value for money packages for both home and business customers in India, since its offers true unlimited data as well as voice calls to any network.
Recently, BSNL launched Social Media Contest for Customers & BSNL Employees for improvising brand Image of BSNL. See its details below:-
Dear readers, please share your views and opinions about this latest and innovative offer from BSNL via comments with us.