State run telecom major, BSNL today launched its

satellite mobile phone services

through INMARSAT.
Telecom Minister Manoj Sinha inaugurated the service.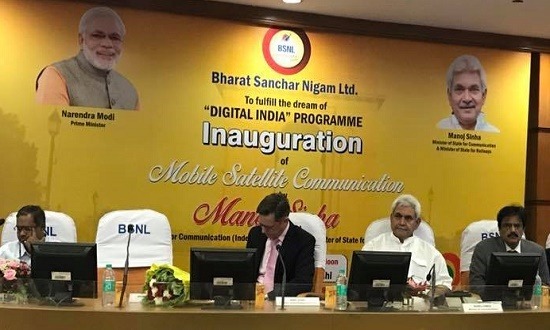 Initially,
BSNL's Satellite Mobile phone service
will be offered to government / security agencies.
The service will be opened for others in a phased manner.
Satellite Mobile phone service will be beneficial to BSNL since it will help the PSU to cover areas where no networks are present. The service will be provided by
14 satellites of
INMARSAT
(International Mobile Satellite Organisation).
Launching the service, Telecom Minister Manoj Sinha said -"Agencies handling disasters, state police, railways, Border Security Force and other government agencies will be given the phones in the first phase. Later people while travelling in flight and on ships will be able to use BSNL's Satellite Mobile phone service."
BSNL Chairman and Managing Director Shri. Anupam Shrivastava said – "This is an exciting day for BSNL as it brings reliable, secure voice communications, powered by Inmarsat's fourth generation satellite network, within the reach of groups and communities in areas with little or no connectivity. This is an important step forward in achieving the goals of Digital India, and ensuring that connectivity is available to all."
BSNL has setup India's First Satellite Communication Gateway (GMPCS) in Ghaziabad, Uttar Pradesh. The launch of the new gateway also marks a further step towards Indian Prime Minister Narendra Modi's Digital India initiative. It will enable the Indian Government to provide secure communications to defence services, commercial enterprises, the maritime industry and India's remotest communities.
INMARSAT India Managing Director Gautam Sharma said – "With BSNL as the prime driver of Inmarsat's GSPS business in India, access to satellite phone communications will be both simplified and seamless for users throughout the country. All the connections will be transferred to BSNL. The call rates will be determined by BSNL. It should be in the range of Rs 30-35 per minute."
A satphone enables a subscriber to communicate from any point, irrespective of location, through a hand-held terminal.
Satellite phone services are very much helpful in disaster situations and where there is no cellular / landline network. With BSNL satellite phone services, you can communicate from any where in the world. The combination of Inmarsat's world leading satellite communications capabilities and BSNL's strong telecommunications infrastructure will see the market for satphone services grow significantly.
Dear readers, please share your views and opinions about BSNL's Satellite Mobile phone services via comments with us.