National telecom backbone, Bharat Sanchar Nigam Limited (BSNL) has established

1Gbps connectivity between India, Bangladesh, Bhutan & Nepal.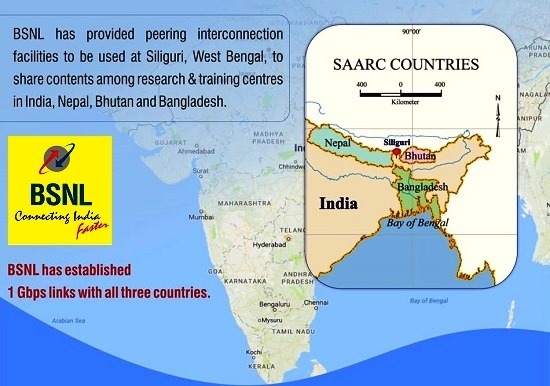 The peering interconnection link can be used to share contents among research and training centers in India, Bangladesh, Bhutan & Nepal. BSNL commissioned connectivity as part of
Subregional Economic Cooperation (
SASEC) Information Highway Project.
BSNL playing a vital role in
South Asia Subregional Economic Cooperation (SASEC) Program.
The SASEC Program, set up in 2001, brings together Bangladesh, Bhutan, India, Maldives, Myanmar, Nepal and Sri Lanka in a project-based partnership to promote regional prosperity by improving cross-border connectivity, boosting trade among member countries, and strengthening regional economic cooperation.

SASEC Information Highway Project
will enhance the availability of affordable broadband Internet connections, skilled manpower, and local content and Internet applications by establishing the SASEC Regional Network, SASEC Village Network, and SASEC Research and Training Network.
SASEC follows a flexible, multi-track approach to project implementation, where member countries work together to ensure that projects implemented at the national level are coordinated across borders to deliver positive results at a wider regional level.
Dear readers, please share your views and opinions about this latest news via comments with us.