State run telecom giant, Bharat Sanchar Nigam Limited (BSNL) is taking maximum advantage of the tariff war which was initially started by the new telecom operator Reliance Jio.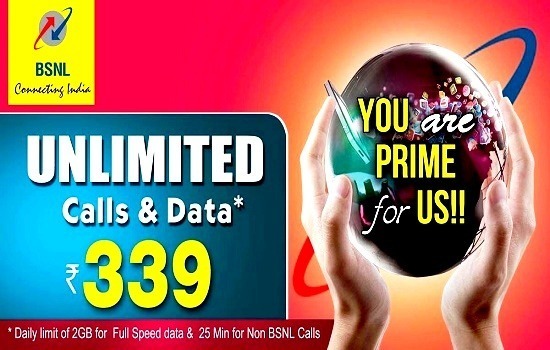 As per latest information, more than 2 lakh prepaid mobile customers subscribed to the recently launched Unlimited Combo STV 339 in Kerala Circle alone. BSNL 339 offer gives daily 2GB Unlimited mobile data + Unlimited BSNL Calls + daily 25 minutes free other network calls for 28 days.
BSNL Unlimited Combo Offer – 339

MRP

Validity (#Calendar Days)
How to Activate?
Unlimited local & STD Calls to BSNL
+ Unlimited local & STD Calls to others with daily FUP limit of 25 minutes, After 25 minutes, 25paise/minute will be charged
+ Unlimited Data with daily FUP limit of 2GB without speed restriction, After 2GB, data speed will be limited to 80Kbps
339
28

Recharge 339

OR

Send SMS – STV COMBO339 to 123

OR

Dial *444*339#
Subscriber Activation Count for Unlimited Combo STV 339 (As on 29th March 2017)
Activation Count on 29-03-2017: 16, 828
Total Activations from 16-03-2017 to 29-03-2017: 1,91,907
Average Daily Activations: 13, 707
Read More:
BSNL launched USSD activation of Unlimited Combo STV 339, Now dial *444*339# to activate the offer @ just Rs 295
This new plan helped BSNL Kerala Circle to activate more than 2 lakh new prepaid connections in a single month (in March 2017). This is the first time BSNL Kerala Circle crossed 2 lakh new activations in a month, after 5 years. From 1st March to 29th March 2017, a total of

1,97,325

new prepaid mobile connections were activated by BSNL Kerala Circle.
To attract customers who need Unlimited Any Network Voice Calls, BSNL Kerala Circle is planning
to launch

a new Unlimited Voice STV

very soon.
Dear readers, please share your views and opinions about BSNL's 339 Offer via comments with us. Have you subscribed to this offer? How much speed you are getting now?