India's leading government service provider, Bharat Sanchar Nigam Limited (BSNL) and Nokia have come together to accelerate

the development of 5G ecosystem in the country.

As we reported earlier, BSNL had singed an MoU with Nokia on knowledge sharing on 5G.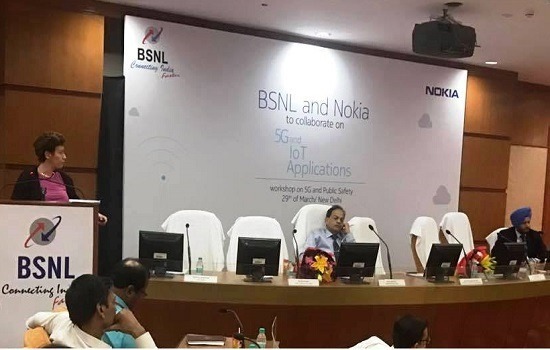 The 5G technology enables extreme high-speed broadband and ultra-low-latency, which allows service providers to support the future network demands of connected devices associated with Internet of Things (IoT) and Smart City.
Shri. Anupam Shrivastava, CMD BSNL said – "We are pleased to partner with Nokia to prepare for the next generation of communications network. We are excited to leverage Nokia's technology and thought leadership in 5G to help us transition to 5G and to be in a position to take full advantage of IoT. BSNL is of the view that the telecoms industry is in the process of evolving what technology will deliver the benefits we expect from 5G, so it is important to establish dedicated research programmes with leading global telecom OEMs like Nokia. We expect 5G to fundamentally enhance the throughput, robustness and above all intelligence of mobile networks."
Nokia will help in smooth transition of BSNL to 5G-ready network. BSNL will leverage Nokia's 5G-ready product portfolio and expertise to develop innovative use cases for both enterprise and retail customer. Nokia will further help BSNL in spectrum assessment and in optimization of the same to deliver on the promise of 5G.
A workshop on 5G domain was organised by BSNL and Nokia on 29 March 2017 at BSNL Corporate Office to develop understanding and road-map for 5G readiness in BSNL network. Mr Amit Marwah of NSN India and Ms Sandrine Legrand of NSN China made presentations on 5G and Public Safety.
Mr. Sanjay Malik, head of India Market, Nokia, said – "We are pleased to partner with BSNL to prepare for the next generation of mobile networks and develop 5G ecosystem for the Indian market. This is in line with the Indian Government's thrust to boost the digital infrastructure to enhance economic growth. We will leverage our global experience in 5G-related industry projects and collaborations to enable BSNL to evolve their networks."
The combination of high speed and low latency in 5G opens up a host of possibilities, such as remote healthcare, virtual reality, augmented reality, connected cars, full automation of homes and businesses, amongst others. Nokia and BSNL will work towards finding an efficient and most cost-effective path for network evolution to 5G for enhanced speed and capacity.
Dear readers, please share your views and opinions about this latest press release from BSNL via comments with us.