BSNL Kerala Telecom Circle has launched a special prepaid mobile plan – SAMHITHA – exclusive for Kerala Police force. The new plan offers unlimited free calls to all members of Kerala police force.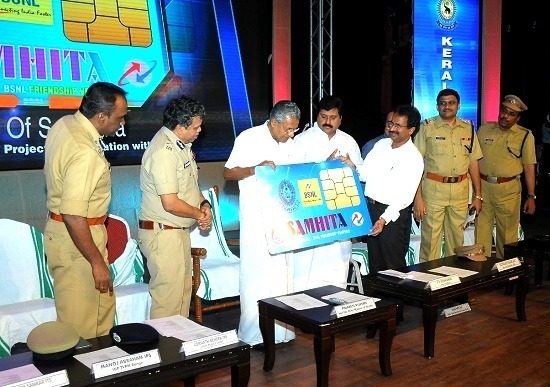 Shri. S. Jyothi Sankar, ITS, General Manager BSNL, handed over the SIM of SAMHITA Project of Kerala Police force of 51,084 CUG Mobile Connections, to Hon'ble Chief Minister of Kerala, Shri. Pinarayi Vijayan in the presence of
the State Police Chief Shri. Loknath Behera IPS
at Tagore Theatre, on 6th February 2017.
About SAMHITHA Project: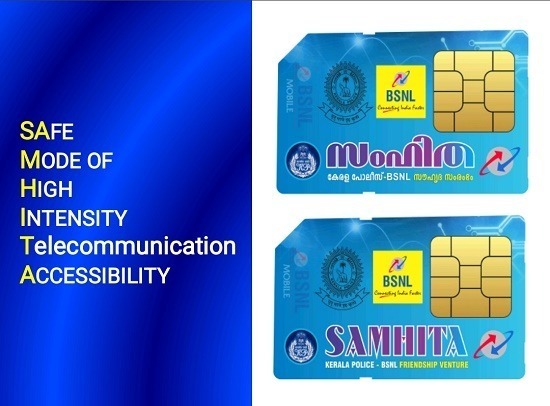 A total CUG ( Closed User Group) communication project of the Police Department. This is a joint project of Kerala Police and BSNL wherein the entire police force of 51,000 will get SIM cards under a CUG special package, which will mark a communication revolution inside the police force and will also make each and every police officer accessible to the public.
Salient Features:
Unlimited Free Calls within 51,084 CUG numbers

Police force getting better communication even in Rural & Hilly areas during their emergency duties

Monthly fixed charge of Rs 39/- plus service tax

Free SIM Activation

Free Call Forwarding within CUG numbers

Attractive tariff for calls outside CUG

Connect with Firends & Family @ 10 paise/minute

SMS @ 30 paise to BSNL numbers in India
Value Addition:
Exclusive Special Tariff Voucher STV 101 @ Rs 101

STV 101 validity is 30 days

1GB Data Free in 30 Days

80 minutes free calls to any number in Kerala

100 Free SMS to Any Local / National number

Activation of STV101 through SMS only. To activate, send STV COMBO116 to 123.(Main account to have balance above Rs 101/- at the time of sending SMS)

2 Friends & Family numbers in Kerala @ 10 pasie / minute (one number should be a BSNL Landline)
SAMHITHA – BSNL Detailed Tariff:
Voice Calls
Unlimited Free Calls within 51,084 CUG numbers

Unlimited Free Calls to Police Landline numbers

Free Call Forwarding within CUG numbers

All local BSNL numbers @ 20 paise / minute

All local other network numbers @ 30 paise / minute

All STD BSNL numbers @ 30 paise / minute

All STD other network numbers @ 40 paise / minute
SMS Tariff
All local / STD BSNL SMS @ 30 paise

All local / STD other network SMS @ 50 paise
In addition, all existing Combo, Voice, SMS, Data & ISD STVs are also applicable. It means, customers in SAMHITHA plan may also subscribe to any of the existing prepaid special tariff vouchers as per their requirement.


Read More: BSNL launches new postpaid mobile plan 'Dil khol ke bol' with Unlimited free calls to Any network even in roaming & 6 GB Data


Dear readers, please share your views and opinions about BSNL's special CUG plan 'SAMHITHA' via comments with us.