In a series of offering customer friendly schemes for the benefits of customers, and to attract new customers to experience Wireline Broadband services, BSNL had launched a very cost effective and affordable promotional Unlimited Broadband plan – 'Experience Unlimited BB 249' – at 2 Mbps download speed.
BSNL has received overwhelming response for this wireline broadband plan and observed that customers are able to download and upload

heavy data up to even 390 GB in a month

under this plan. Hence per GB data cost comes out to be even less than Rs 1/- per GB.
Shri. N K Gupta, Director CFA, BSNL Board told that BSNL is the only operator offering less than Rs 1/- per GB data download cost plan under wireline broadband plan in the country.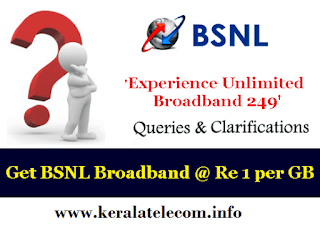 He further told that, the above plan has elicited enormous response towards BSNL's wireline broadband services and many new customers are subscribing to BSNL Wireline Broadband services under Experience Unlimited BB 249 plan.
Dear readers, please share your views and opinions about BSNL's less than Rs 1 per GB download cost unlimited broadband plan –
' Experience Unlimited BB 249 ' –

via comments with us.