India's fourth largest mobile operator, Bharat Sanchar Nigam Limited (BSNL) has announced the launch of International WiFi Services through 44 million WiFi hotspots to its customers traveling abroad. Unlimited International WiFi Services can be used without International Roaming facility on your existing BSNL mobile number.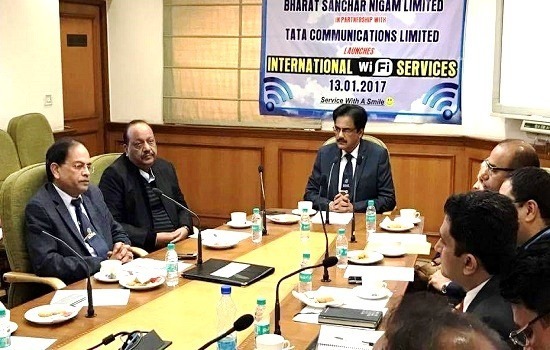 As per the latest information, BSNL will be providing Unlimited Data usage to its prepaid and postpaid mobile customers in association with Tata Communications Wi-Fi+ and Wi-Fi cloud communication solution. BSNL is the first operator to provide international WiFi services in more than 100 countries including international flights, hotels and rail systems.
BSNL Chairman and Managing Director Shri. Anupam Shrivastava said – "BSNL is the first among the Indian mobile operators to have taken this big step forward towards how mobile subscribers use WiFi internationally. We have partnered with Tata Communications to facilitate access to high-speed data service when our customers travel abroad. They will be able to access unlimited data on these hotspots at fixed cost."
BSNL Mobile customers can activate the WiFi plans through BSNL's mobile application – 'My BSNL App'. BSNL International WiFi plans include Rs 999 for 7 days, Rs 1,599 for 15 days and Rs 1999 for 30 days inclusive of all other charges. The mobile application will also show location of WiFi hotpsots.
"BSNL mobile subscribers can access WiFi anywhere in the world without worrying about the bill shock when they get home and no longer have to limit their Internet usage while abroad," Shrivastava added.
Mr. Christopher Almeida, Senior Vice-President, Service Provider Group, Tata Communications said – "WiFi plus changes how subscribers experience WiFi and simplifies how they get connected to the Internet and use their applications while traveling abroad. We are really proud of this partnership with BSNL and how it is delivering innovative mobile experiences to BSNL subscribers."
Frequently Asked Questions (FAQ) : BSNL International WiFi Services (WiFi + services)
What is WiFi Roaming?

Unlimited Internet access on designated WiFi Hotspots during International Roaming of BSNL Customer.

What are designated WiFi Hotspots?

There are approx 44 Million WiFi Hotspots Globally. These Hot Spots are available globally mainly in US, UK, France, UAE, Brazil, Netherlands, China, Portugal, Korea, Thailand, Japan, Indonesia, Malta, Taiwan, Germany, Mexico, Italy, Russia, Turkey, HongKong, Switzerland, Malaysia, Belgium etc. This list is indicative only subject to change depending upon availability of partner network. This also available in selected International flight, trains, Hotels.

What are the benefits of International WiFi Roaming Service? It
will provide the unlimited Internet access for the period opted in the
pack (Weekly/Fortnightly/Monthly) and prevent the customer from 'Bill
Shock'.
Who is eligible for this service? All customers having BSNL's Postpaid or Prepaid connection.

I have not taken International Roaming facility on my connection, whether I am eligible for the WiFi Roaming Service?

Yes, only BSNL mobile connection is required.

I am not having STD or ISD services on my mobile phone, will I be able to use International WiFi Roaming Service?

Yes, STD or ISD is not required to be present for availing such a service.

From where I can buy International WiFi service? You can purchase WiFi Roaming pack for 7 days/ 15 days/
30 days through Online BSNL Portal (www.portal.bsnl.in ) or BSNL My BSNL
App (available in Google & Apple Play Store).
What is the period allowed for activating the service? The purchased package(s) should be activated within 30 days from the date of purchase using MYBSNLAPP in the mobile device you carry abroad.
How to activate International WiFi on Mobile? International WiFi service can be activated only through My BSNL App. It should be activated on the device on which you wish to avail the service.
What is the process to activate International WiFi Roaming Service on your Device? First
download 'My

BSNL

App' from Google / Apple Play Store – Click on 'Intl WiFi'
tab – and follow the instructions on the screen to activate the
services. It may take almost one minute for the activation. (If 'Intl WiFi'
tab is not showing in My BSNL App, just update your app from play store to the latest version.)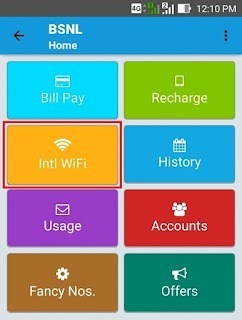 When should I activate International WIFI service on Mobile? The Service need to be activated through My BSNL APP before departure.
How much day's validity I will get? The validity will depend upon the plan you will purchase.

What is the price of WiFi+?Multiple pricing options are available based on: Multiple pricing options are available based on:

▪ Monthly : INR 1999
▪ Fortnightly : INR 1599
▪ Weekly : INR 999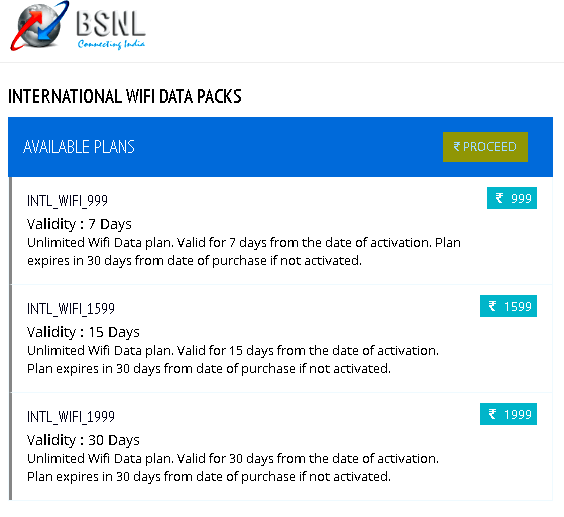 How BSNL calculates the validity of my purchased package?

The validity of the purchased package will start from the date of activation of your plan from My BSNL App.

What can International WiFi service do?

International WIFI service provides unlimited data over partner WiFi hotspots that can be used for unlimited internet access whiling roaming internationally.
What platforms does International WiFi service support? The

International

WiFi supports Android and iOS running on any smart device.
Does International WiFi work in-flight? What features are accessible? No, currently in-flight facility is not available.
What speed over WiFi will users get? Speeds vary from one hotspot to another. The algorithm will always connects to the best available Wi-Fi network.
What is required to be done for availing the service in mobile? Once you enter the WiFi hotspot service area your mobile will automatically connects to the WiFi hotspot.
Having trouble connecting to a International WiFi Hotspot. Make sure your WiFi is on, and then make sure that the signal strength, shown in bars, is high. Depending on your device, you can either see the signal strength in your Wi-Fi settings. If signal strength is low, try changing your location.

What platforms does International WiFi Roaming Service support?

The International WiFi supports Android and iOS running on any smart device.

Where I can find hotspot information?

Use URL https://wifilookup.com/ to get information about available hotspots.
Advantages of BSNL International WiFi+ services
BSNL International WiFi+ service is beneficial to NRI customers and customers going abroad since they need not avail International Roaming facility to access unlimited data while abroad. Customers may use Voice Calling Apps like – Whatsapp, Facebook Messenger, Viber etc to make out going calls using BSNL WiFi+ services. Moreover, the service is available to all existing as well as new BSNL Prepaid Mobile Customers also. The activation process is very simple and can be done within minutes through My BSNL App.
Read More : BSNL Mobile International Roaming Facility Activation Procedure, Charges & Coverage
Dear readers, pleas share your views and opinions about BSNL's Unlimited International WiFi Services via comments with us.