BSNL Kerala telecom circle has announced

Mela Offers for the month of January 2017

which

starts on 1st January 2017
for it's Prepaid and Postpaid Mobile Customers in the state
.
During the offer period, customers can avail Full Talk Time, Extra Talk Time, Free SIM Cards
and Free Activation of Postpaid Mobile Connections via Melas / Exhibitions conducted by BSNL.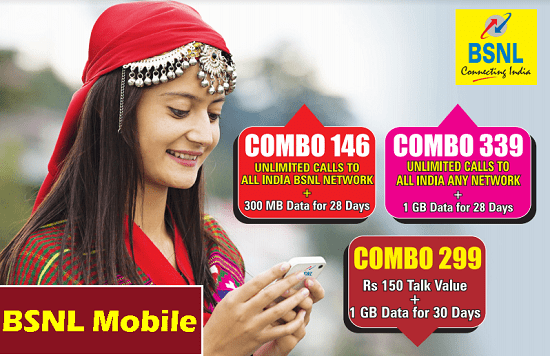 BSNL's Free SIM Offer includes – New FREEDOM Prepaid plan with
1GB Free 3G Data + 2 Year Validity,

New

Students Special plan with 1GB Free 3G Data, Free Mithram prepaid mobile connection with 500MB 3G Data +
Rs 40 talk time. BSNL's Free 3G micro SIM cards are available to MNP Port-In customers also.
In addition to the existing Full Talk Time / Extra Talk Time offers, BSNL Kerala circle – the highest revenue generating circle of BSNL, announced the following offers those can be given during Melas / Road shows / Exhibitions, which may conducted by BSNL Kerala circle in their territory.

BSNL's Mela Offers for the month of January 2017 will be
available from 1st to 14th of January 2017 (14 Days).
BSNL Kerala Circle: Mela Offers – January 2017 (from 01-01-2017 to 14-01-2017)
Full Talk Time for Top Up 220 & Top Up 500

New Mithram Offer, with 500 MB Free Data + Rs 40 Talk Value
New FREEDOM Prepaid Plan with 1GB Free Data, 2 year Validity, All Calls @ 25ps/min

New Students Special plan with 1GB Free Data, Call/SMS Rate: 10ps/min (BSNL) & 30ps/min (Other), 15ps/SMS
Free SIM Card worth Rs 20/- will be offered to both New as well as PORT IN customers of BSNL [The offer is applicable to 32K – 128K Normal SIM / Micro SIM / Repluggable (Smart SIM) SIM.]
Waiver of activation charges of Rs.100/- for new Postpaid Mobile connection of any plan purchased from Melas / Exhibitions.
Recently BSNL increased 3G data usage up to 100% for its prepaid mobile customers in all telecom circles. Now 10 GB 3G data pack is available @ just Rs 549 for 30 days. For the first time, BSNL launched TRUE Unlimited 3G Data STV @ just Rs 1099 without any speed restriction having 30 days validity.
BSNL Kerala Telecom Circle: Unlimited Voice Calling Offers for prepaid mobile customers
STV MRP in Rs

Freebies
Validity (Calendar Days)
Mode of Activation
146
Unlimited local & STD Calls to All India BSNLNetwork with 300 MB data
28
C-Topup or Selfcare
SMS format:
STV COMBO146 to 123
339
Unlimited local & STD Calls to Any Network with 1 GB data
28
C-Topup or Selfcare
SMS format:
STV COMBO339 to 123
BSNL's TRUE Unlimited 3G Data STV
Unlimited BSNL 3G / 2G Prepaid Data Offers
MRP (Rs)
Validity ( Calendar Days)
STV Code
(Send to 123)
[ Promotional Offer up to 07-01-2017 ]

Unlimited 3G/2G Data without Speed Restriction

498
14
STV DATA498
Unlimited 3G/2G Data without Speed Restriction
1099
30
STV DATA1099
| | | | |
| --- | --- | --- | --- |
| | MRP of Data STV in Rs | Total bundled free Usage | Validity of freebies (in calendar days) |
| 1 | 549 | 10 GB | 30 |
| 2 | 156 | 2 GB | 10 |
Customers taking new BSNL Prepaid Mobile connection may pay only the Plan Voucher charges during this period. Plan vouchers are used to enroll prepaid mobile customers in a specific tariff plan. Plan voucher amount for New Students Special plan is Rs.118/- and for Freedom plan is Rs 136/-.
Details of currently available Plan Voucher Denominations for Prepaid Mobile Customers are listed below:
Sl No
Plan Name
Plan Voucher Denomination (in Rs)
Freebies with Plan voucher
Plan Validity
1
Freedom Plan
136

1 GB Free 3G/2G Data

,

Data Charges without STV: 40paise/MB

Call Rate: All Calls@ 25ps/min (For the First 60 Days)

Special Combo STVs with Full Talk Value + Free Data

Two Years
1
Students Special
118
Talk Time worth Rs 10 +

1 GB Free 3G/2G Data

,

FFE Facility: 2 Local numbers @ 10ps/min (BSNL) and 20ps/min (Other N/w)

Call Rate: All BSNL Numbers @ 10ps/min, Others @ 30ps/min, SMS Rate – 15ps/SMS (For the First 60 Days)

One Year
2
Mithram
49
Talk Time worth Rs 40 + 50 MB Free 3G/2G Data

FFE Facility: 5 Local numbers @ 20ps/min (BSNL) and 40ps/min (Other N/w)

Call Rate: All BSNL Numbers @ 1.2ps/sec, Others @ 1.5ps/sec

180 Days
3
Per Second
106
Talk Time worth Rs 100 + 50 MB Free 3G/2G Data

Call Rate: All BSNL Numbers @ 1ps/3sec, Others @ 2ps/3sec, (For the First 60 Days)

180 Days
4
Per Minute
107
Talk Time worth Rs 100 + 50 MB Free 3G/2G Data

Call Rate: All BSNL Numbers @ 10ps/min, Others @ 30ps/min, (For the First 60 Days)

180 Days
5
Pyari Jodi
75
2000 Sec BSNL Calls + 2000 Sec Other Calls + 50 MB Free 3G/2G Data

FFE Facility: Daily 20mins free calls to One Local Landline / Mobile / CDMA number

Call Rate: All Outgoing Calls @ 2ps/sec

180 Days
6
Jai Jawan
99
2700 Sec BSNL Calls + 2700 Sec Other Calls + 50 MB Free 3G/2G Data
(Plan Exclusive for Pramilitary Forces)
30 Days