State run PSU, Bharat Sanchar Nigam Limited (BSNL) who is playing a major role in Government's

Digital India

project has launched Free E-Mail address in Eight Indian languages with DataMail App for its broadband customers in all the circles.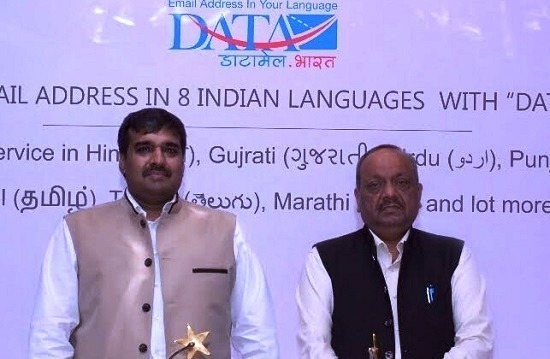 As per the latest information, BSNL broadband customers will be able to open a free email ID in DataMail service in their own regional language.
BSNL Chairman and Managing Director Shri Anupam Shrivastava said –
"
Providing the linguistic email address is one of its kind initiative in the world to achieve our Prime Ministers Vision of Digital India. It is now possible in every part of India to have an email address in their own language and communicate in preferred language."
Shri. N. K Gupta, Director CFA, BSNL Board said – "The linguistic email service offered by BSNL will have डाटावन.भारत (DataOne.Bharat) domain and email address will be offered in eight regional languages including Hindi (हिन्दी), Gujarati (ગુજરાતી), Urdu (اردو), Punjabi (ਪੰਜਾਬੀ ਦੇ), Tamil (தமிழ்), Telugu (తెలుగు), Bengali (বাংলা) and Marathi (मराठी). DataMail is free to be downloaded from any Android or iOS system through their respective app store."
Steps to avail free e-mail address in your regional language using DataMail App:
BSNL broadband customers can use DataMail app which is free to be downloaded from any Android or iOS system through their respective app store.

User will have to select the language in which they want his/her email address.

Insert the mobile number.

Select the checkbox 'I am a BSNL Broadband Customer.'

Insert BSNL broadband number with STD code.

You will receive an OTP on your registered mobile number.

Type the desired Email address in your own language.

Start using your new e-mail ID and share it with your friends.
"Our fully 'made in India' software product enabling DataMail service is a revolution in the world as many countries are waiting to inject the linguistic email address to empower the non-English speakers of the world. We are happy to contribute to the Prime Minister Shri Narendra Modi's Digital India dream by partnering with BSNL, country's strongest network telecom company having rural and remote connect" – said Shri. Ajay Data, Founder and CEO of Data XGen.
Government of India had launched .भारत (Dot Bharat) domain in Indian languages to increase the reach of internet users by providing domain names in their own regional language. This move was aimed to cover over 70% of population living in the rural and remote areas. Since BSNL provides better connectivity in rural and remote areas of the country, the free linguistic e-mail address will certainly help millions people in the rural villages.
DataMail App is FREE for everyone which can be downloaded from Google Play Store or Apple iTunes Store.
Dear readers, please share your views and opinions about BSNL's free e-mail ID in regional language via comments with us. Whether this would really help Government's Digital India initiatives?