As per the
latest audited financial statement,
state run telecom major, Bharat Sanchar Nigam Limited (BSNL) has registered a six fold jump in
operating profit during
FY 2015-16.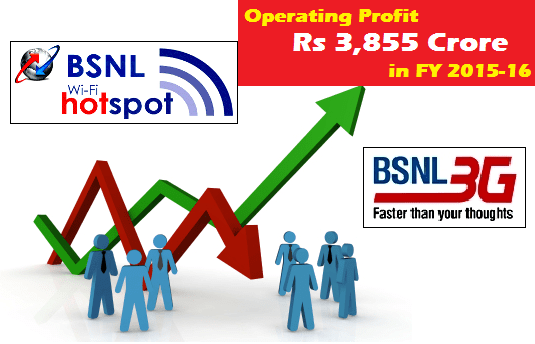 Mobile services registered an accelerated growth rate of 8 percent and
generated maximum revenue
among all other services.
Around 25,000 new mobile towers were commissioned in FY 2015-16 which helped the PSU in acquiring more customers and thereby increasing revenue.
Other business segments like – Enterprise Business grew by 28 percent while landline / broadband segment grew by 2 percent.
The growth in income and reduction in expenditure (salary, administrative expenditure, employee remuneration etc) helped the PSU in growing Earnings Before Interest, Taxes, Depreciation and Amortisation (EBITDA) to

Rs 3,855 crore in 2015-16

from Rs 672 crore in 2014-15.
The total expenditure reduced by 1.3 percent over the FY.
Total income (which included interest on refund of spectrum as part of other income) stood at Rs 32,918 crore during 2015-16, up nearly 15 per cent, over the previous year, while losses nearly halved to Rs 3,879 crore in 2015-16 (from Rs 8,234 crore).
Dear readers, please share your views and opinions about this wonderful performance made by BSNL via comments with us.