Union Tourism Ministry has signed agreement with state run telecom operators BSNL & MTNL to provide Free Wi-Fi services in

100 selected tourist destinations

across the nation.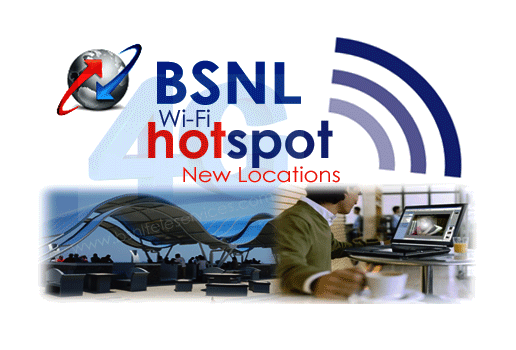 The locations include – world heritage sites, monuments and other major tourist destinations where the service will be provided within the next six months. Tourism Secretary Vinod Zutshi said – "BSNL and MTNL will provide the service for seven years with the Tourism Ministry bearing the operational cost for the first three years."
The ministry has given a list of 148 tourist destinations to BSNL and requested BSNL to select 70 tourist sites from this list. The Ministry of Tourism shall extend financial support of Rs 7 lakh per site per annum for a period of 3 years. The ministry has also requested BSNL to launch Wi-Fi facility at these 70 tourist places by 30th November 2016.
List of tourist destinations identified for Wi-Fi provision
Adarsh Monuments / Monuments proposed to be includes as Adarsh Monuments
Sl No
Name of the monument
State / Union Trritory
1
Virbhadra Temple, Lepakshi
Andhra Pradesh
2
Nagarjunakonda
Andhra Pradesh
3
Excavated Remains at Nalanda
Bihar
4
Sher Sha's Tomb, Sasaram
Bihar
5
Humayun's Tomb
Delhi
6
Red Fort
Delhi
7
Qutb complex
Delhi
8
Purana Quila
Delhi
9
Safdarjung Tomb
Delhi
10
Diu Fort
UT – Daman & Diu
11
Rani-Ki. Vav, Patan
Gujarat
12
Sun temple, Modhera
Gujarat
13
Pari Mahal, Srinagar
Jammu & Kashmir
14
Group of Temples, Pattadakal
Karnataka
15
Group of Temples, Aihole
Karnataka
16
Sacred Ensembles of the Hoysala, Belur
Karnataka
17
Gol Gumbaz, Bijapur
Karnataka
18
Dariya Daulat Bagh, Srirangapattanam
Karnataka
19
Shravanabelagola
Karnataka
20
Bekal Fort
Kerala
21
Royal Palaces, Mandu
Madhya Pradesh
22
Buddhist Monuments at Sanchi
Madhya Pradesh
23
Gwalior Fort, Gwalior
Madhya Pradesh
24
Pre-historic rock shelters of Bhimbetka
Madhya Pradesh
25
Group of Temples at Amarkantak
Madhya Pradesh
26
Elephanta Caves, Off Mumbai
Maharashtra
27
Agra Khan Palace, Pune
Maharashtra
28
Ajanta Caves
Maharashtra
29
Ellora Caves
Maharashtra
30
Bibi-ka-Maqbara (Tomb of Rabia-Daurani), Aurangabad
Maharashtra
31
Buddhist Caves, Kanheri, Mumbai
Maharashtra
32
Daulatabad Fort, Near Aurangabad
Maharashtra
33
Udaygiri-Khandagiri Caves
Odisha
34
Chittorgarh Fort
Rajasthan
35
Kumbhalgarh Fort
Rajasthan
36
Fort Gingee
Tamil Nadu
37
Kailashnath Temple, Kanchipuram
Tamil Nadu
38
Ramappa Temple, Warangal
Telangana
39
Golkonda Fort
Telangana
40
Kushinagar
Uttar Pradesh
41
Rani Jhansi Fort, Jhansi
Uttar Pradesh
42
Residency, Lucknow
Uttar Pradesh
43
Agra Fort
Uttar Pradesh
44
Akbar's tomb, Sikandra
Uttar Pradesh
45
Itmad-ud-oaula's Tomb
Uttar Pradesh
46
Hazardwari Palace, Murshidabad
West Bengal
47
Temples of Bishnupur
West Bengal
48
Kooch Bihar Palace
West Bengal
Other Tourist Destinations
Sl No
Name of the monument
State / Union Trritory
1
Rushikonda Beach, Vizag
Andhra Pradesh
2
Pulicat Lake, Nellore
Andhra Pradesh
3
Cellular Jail, Port Blair
Andaman & Nicobar Islands
4
Radhanagar Beach Havelock
Andaman & Nicobar Islands
5
Corbyn's Cove Beach Port Blair
Andaman & Nicobar Islands
6
Water Sports Complex, Aberdeen Bazar Port Blair
Andaman & Nicobar Islands
7
Kamkhya Temple, Guwahati
Assam
8
Great Buddha Statue
Bihar
9
Rajgir (Buddhist Site)
Bihar
10
Vaishali (Buddhist Site)
Bihar
11
Rock Gardens (Nekchand Park)
Chandigarh
12
Rose Gardens
Chandigarh
13
Sukhana Lake
Chandigarh
14
Calangute Beach
Goa
15
Colva Beach
Goa
16
Miramar Beach
Goa
17
Bom Jesus, Old Goa
Goa
18
Dona Paula Beach
Goa
19
Aguada Fort, Sinqurim
Goa
20
Our Lady of Immaculate Conception Church (Panjim Church)
Goa
21
Sabarmati Riverfronts, Ahmedabad
Gujarat
22
Palitana Jain Temples (Hill Top)
Gujarat
23
Pinjore Gardens
Haryana
24
Kurukshetra (Bhrama Sarovar Area)
Haryana
25
The Mall Shimla
Himachal Pradesh
26
Kufri (Near Skiing Centre)
Himachal Pradesh
27
Shalimar Bagh
Jammu & Kashmir
28
Nishat Bagh
Jammu & Kashmir
29
Dal Lake
Jammu & Kashmir
30
Chashme Shahi Garden
Jammu & Kashmir
31
Vaisho Devi temple
Jammu & Kashmir
32
Patnitop
Jammu & Kashmir
33
Gulmarg
Jammu & Kashmir
34
Kovalam Beach
Kerala
35
Periyar Wildlife Sanctuary
Kerala
36
Munnar
Kerala
37
Athirappally Vazhachal Water Falls
Kerala
38
Fort Kochi
Kerala
39
Ulsoor Lake, Bengaluru
Karnataka
40
Mysore Palace
Karnataka
41
Sri Chamarendra Zoological Garden (Mysore Zoo)
Karnataka
42
Badami Caves
Karnataka
43
Gwalior Fort
Madhya Pradesh
44
Marble Rock Jabalpur
Madhya Pradesh
45
Pachmarhi Hills
Madhya Pradesh
46
Bhandavgarh National Park
Madhya Pradesh
47
Saras Baug Pune
Maharashtra
48
Venna Lake Mahabalaswar
Maharashtra
49
Shaniwarwada Pune
Maharashtra
50
Raigad Fort
Maharashtra
51
Ganapatipule Beach, Near Ratnagiri
Maharashtra
52
Umiam Lake, Shillong
Meghalaya
53
Lady Hydri Park, Shillong
Meghalaya
54
Nandan Kanan Zoological Park, Bhubaneswar
Odisha
55
Chilika Lake
Odisha
56
Patiala Fort
Punjab
57
MC Zoological Park, Mohali
Punjab
58
Nahargarh Fort, Jaipur
Rajasthan
59
Sisodia Palace & Garden, Jaipur
Rajasthan
60
Mehrangarh Fort Jodhpur
Rajasthan
61
Lake Area Mount Abu
Rajasthan
62
Pushkar Lake, Pushkar
Rajasthan
63
MG Road Gangtok
Sikkim
64
Marina Beach Chennai
Tamil Nadu
65
Elliots Beach Chennai
Tamil Nadu
66
Kodaikanal (Lake Area)
Tamil Nadu
67
Courtallam Water Falls
Tamil Nadu
68
Yerkadu (Lake Area)
Tamil Nadu
69
Muttukadu Lake (East Coast Road)
Tamil Nadu
70
Vivekananda rock Memorial, Kannyakumari
Tamil Nadu
71
Salar Jung Museum
Telangana
72
Nehru Zoological Park, Hyderabad
Telangana
73
Medak Church
Telangana
74
Bada Imambara, Lucknow
Uttar Pradesh
75
Dr. Ambedkar Park, Lucknow
Uttar Pradesh
76
Triveni Sangam, Allahabad
Uttar Pradesh
77
Nainital Lake
Uttarakhand
78
Mussoorie Hill Station
Uttarakhand
79
Badrinath Temple
Uttarakhand
80
Kedarnath Temple
Uttarakhand
81
Rishikesh Ghats
Uttarakhand
82
Belur Math, Kolkata
West Bengal
83
Victoria Memorial, Kolkata
West Bengal
84
Indian Museum, Kolkata
West Bengal
85
Botanical gardens, Kolkata
West Bengal
86
Vishwabharti University, Shanthiniketan
West Bengal
Tourist Places in Delhi & Mumbai
88
Rajpath Lawns (either sides), India Gate
Delhi
89
Lodhi Gardens
Delhi
90
India Gate (Lawns)
Delhi
91
National Rail Museum (RailTel)
Delhi
92
National Museum, Janpath
Delhi
93
Gateway of India
Mumbai
94
Chowpatty beach, Mumbai
Mumbai
95
Juhu Beach, Mumbai
Mumbai
96
Hanging Gardens
Mumbai
97
Kamla Nehru Park
Mumbai
98
Marine Drive
Mumbai
99
Chhatrapathi Shivaji Maharaj Vastu Sangrahalaya (formerly Price of Wales Museum)
Mumbai
100
Mani Bhawan
Mumbai
Dear readers, please share your views and opinions about this latest news via comments with us. How many of you have used BSNL's Wi-Fi services already available in locations like – Taj Mahal, Varanasi etc. ?