As we reported earlier, BSNL – one of India's largest Public Sector Units has decided to

recruit 2510 Graduate Engineers

for the post of Junior Telecom Officer (JTO).
The PSU will be selecting candidates having a valid Gate Score 2017.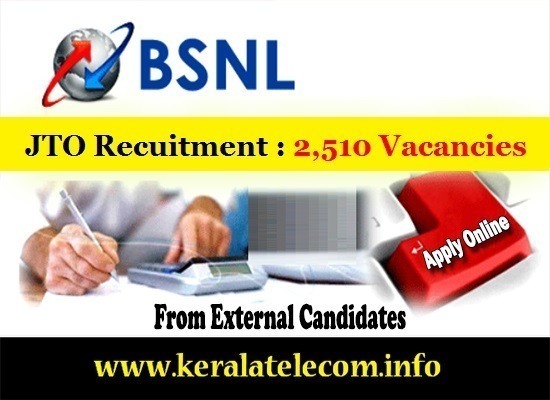 Now, the PSU has released circle wise break up of 2510 vacancies
to be filled up by the proposed JTO Recruitment drive. Maximum vacancies are available in Maharashtra telecom circle (440 vacancies) followed by Kerala (330 vacancies) and Karnataka (300 vacancies).
Sl No

Circle

Total vacancies to be filled up under Direct Recruitment quota
for the Recruitment Year 2015-16

1

Andaman & Nicobar

13

2

Assam

166

3

Bihar

10

4

Jharkhand

45

5

Kolkata Telecom District

0

6

North East I

91

7

North East II

17

8

Northern Telecom Region

28

9

Orissa

94

10

West Bengal

93

11

Punjab

163

12

Haryana

0

13

Himancal Pradesh

53

14

Rajasthan

0

15

Jammu & Kashmir

84

16

Uttar Pradesh (W)

117

17

Uttar Pradesh (E)

0

18

Uttrakhand

10

19

Andhra Pradesh

0

20

Chennai Telecom District

37

21

Tamil Nadu

103

22

Kerala

330

24

Karnataka

300

25

Gujarat

260

26

Maharashtra

440

27

Madhya Pradesh

0

28

Chhattisgarh

56

Grand total

2510
However, BSNL will not be recruiting JTOs from Andhra Pradesh, Haryana, Rajasthan, Uttar Pradesh (East), Madhya Pradesh and Kolkata Telecom District since the vacancies available in these circles are Zero.
Category wise break up of vacancies viz. OC, SC, ST, OBC will be calculated by respective telecom circles soon. BSNL corporate
office has directed telecom circles to calculate the number of posts reserved for Person With Disabilities (PWD) candidates in their respective circle also.
BSNL will be offering IDA pay scale of Rs 16400-40500 (E1 Scale) with annual increment of 3 percent of basic pay plus IDA, HRA, Perks, Medical Benefits etc admissible as per company rules.
The Candidates having qualification BE / B.Tech or equivalent in Telecom / Electronics / Radio / Computer / Electrical / Information Technology / Instrumentation Engg. or M.Sc (Electronics) / M.Sc (Computer Science) are required to appear GATE exam 2017, opting one paper from selected four disciplines of GATE paper codes i.e., CS & IT/ EC/ EE / & IN.
Details are available at www.gate.iitr.ernet.in/.
Registration process will start with effect from 1st January 2017 to 31st January 2017 through online BSNL portal. For details, candidates may log on to www.externalexam.bsnl.co.in from 1st December 2016.
Read More:
BSNL to launch Zero Voice tariff plans cheaper than Reliance Jio, which offers unlimited lifetime free voice calls to its 3G/2G mobile customers from January 2017 on wards
Dear readers, please share your views and opinions about this latest Recruitment Drive announced by BSNL via comments with us.