PAN India 3G service provider, Bharat Sanchar Nigam Limited (BSNL) has achieved another milestone in SIM sales during the month of August 2016. As per the latest information, the PSU has activated more than 2.3 million new mobile connections in August 2016.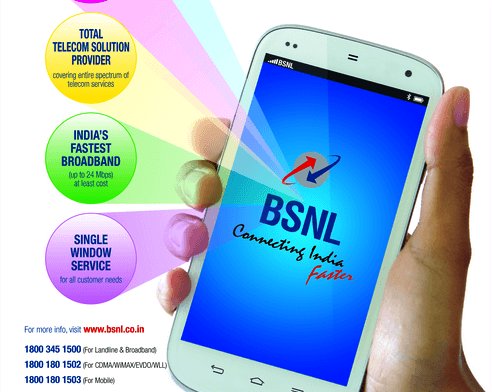 Among 22 telecom circles, 12 of them have achieved their assigned target which includes – Assam, Orissa, Punjab, Himachal Pradesh, Rajasthan, UP (West), UP (East), Uttaranchal, Gujarat and Tamil Nadu. Further, Assam, UP (West), Chennai TD, Uttaranchal, Gujarat and Tamil Nadu have scaled new heights in SIM activation, which shows the inherent potential BSNL has in all these circles.
Best performing BSNL Telecom Circles in SIM sales during August 2016
Telecom Zone

Telecom Circle

Target for August 2016

Achievement in August 2016

% Achievement

East

Andaman &

Nicobar

5000

4,735

Bihar

1,25,000

1,17,767

94

Jharkhand

40,000

38,100

95

Kolkata

15,000

13,600

North

East I

20,000

13,368

67

North

East II

20,000

12,067

60

West

Bengal

24,000

19,325

81

North

Haryana

90,000

87,709

97

120

Jammu &

Kashmir

20,000

12,185

118

103

South

Kerala

1,75,000

1,59,715

Karnataka

1,20,000

1,18,773

99

West

Maharashtra

1,20,000

97,856

82

Madhya

Pradesh

1,00,000

89,610

90

Chhattisgarh

32,000

29,739

93

103
Based on the encouraging feedback received from various telecom circles, BSNL has set the target of 3 million new subscriber addition in coming months.
BSNL started showing positive signs of revival form June 2015 on wards, after the launch of Free All India Roaming Scheme for its Prepaid and Postpaid Mobile customers. As per latest TRAI reports, BSNL registered tremendous growth in gross mobile connections per month during February, March, April and May 2016. MNP (Mobile Number Portability) figures are also positive for BSNL since last year.
FREE All India Roaming (Voice & Data) and Lowest 3G Data Tariff are the attractions of BSNL Mobile Services. More and more new customers are being added to BSNL Network from other operators through Mobile Number Portability(MNP). Recently launched Student Special Plan has already made its presence among the youth segment since it offfers 1 GB free 3G Data along with lowest voice call rate of just 10ps/Min.
Some of the latest offers announced by BSNL for its Mobile, Customers are summarized below:
Dear readers, please share your views and opinions about this excellent performance made by BSNL in new subscriber addition via comments with us.