PAN India 3G service provider, Bharat Sanchar Nigam Limited (BSNL) has announced the withdrawal of Call Forwarding packs under prepaid and postpaid mobile services across all telecom circles.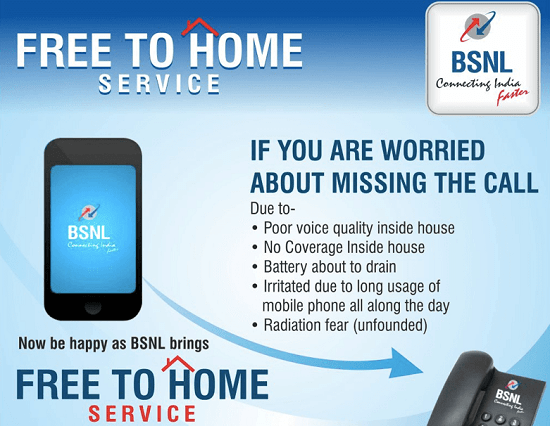 As per the latest information, prepaid 'Call Forwarding STV 72' and postpaid 'Call Forwarding Add-on pack 22' will be withdrawn as the PSU has already launched 'FREE To HOME Services' on PAN India basis. BSNL FREE TO HOME Service offers absolutely FREE Call Forwarding Facility to BSNL Landline numbers for BSNL Mobile Customers (both prepaid and postpaid).
BSNL Mobile Withdrawn Call Forwarding Offers
PREPAID Call Forwarding STV 72 which offers Free call forwarding to Any BSNL Landline / WLL (Prepaid), Validity – 90 Calendar Days
POSTPAID Call Forwarding Add-on with Fixed Monthly Charges of Rs 22 which offers Free call forwarding to Any BSNL Landline / WLL (Postpaid)
BSNL 'Free to Home' service allows all BSNL mobile subscribers (both prepaid and postpaid) to forward their mobile calls to any BSNL Landline number of his / her choice.
The facility will be offered free of cost to calls forwarded to Landline numbers within LSA and will continue to be free even during roaming. However, calls forwarded to landline numbers outside the LSA will be charged according to the existing tariff.
Read More: BSNL 'FREE TO HOME' service – Free Call forwarding facility from Mobile to BSNL landline even during roaming
Dear readers, please share your views and opinions about BSNL Free To Home Service via comments with us.