BSNL has doubled data usages of its popular Data STV to 10 GB which was earlier providing 5 GB data in the same cost for just Rs 549/- with validity of one month (30 Days). It is equivalent to 100% increase in data benefits to subscribers.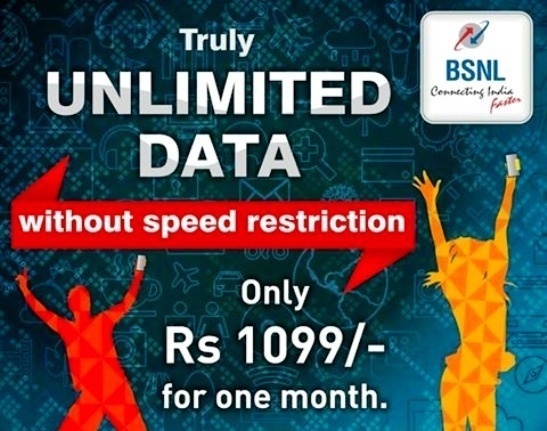 In addition, Bharat Sanchar Nigam Limited (BSNL) has also announced the launch of TRUE Unlimited 3G Data STV i.e.,
Unlimited

3G data STV without any speed restrictions for all prepaid mobile customers for just Rs 1099- with validity of one month (30 Days).
This is first of its kind in Telecom Industry. Cost effective new data STV of Rs 156/- has also been launched which provides 2 GB data for 10 days. These offers will be available on PAN India basis with effect from 25th August 2016.
BSNL is leading in mobile service initiatives by giving unlimited data tariff without keeping any speed restriction by introducing new data STVs in Indian market.
Director (CM) BSNL Board, Shri R.K.Mittal said – "BSNL offer is unique and the sole purpose is to enable every section of the society with high speed internet at affordable prices. Last year, BSNL had also facilitated the customer by offering 80% cheaper voice tariff. By massive reduction in data tariff and introduction of unlimited data STVs, BSNL hopes to serve data customers – mainly youth segment in much better way. A complete range of tariff plans and STVs (Special Tariff Vouchers) offered by BSNL can be seen by visiting Mobile section at BSNL Website : www.bsnl.co.in
See the existing 3G Prepaid Data Offers / STVs from BSNL below:
Dear readers, please share your views and opinions about the launch of TRUE Unlimited 3G Data packs from BSNL via comments with us.