State run telecom major and PAN India 3G service provider Bharat Sanchar Nigam Limited (BSNL) has deployed

WiFi Mobile Data Offloading (MDO) Services

in all major cities and tourist locations across India in association with M/s Quadgen Wireless Solutions Pvt Ltd.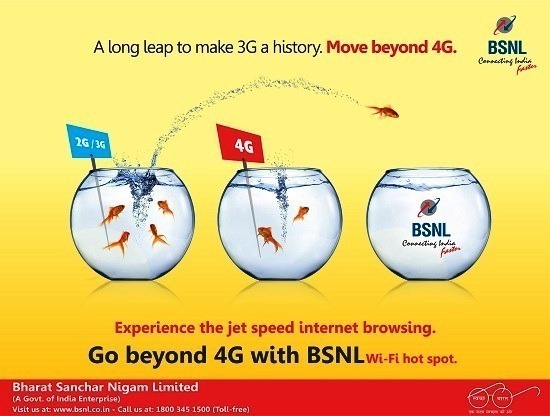 As we reported earlier, BSNL started installing more and more WiFi Hotspots in major cities, tourist locations and commercially important locations to counter the 4G services being rolled out by private telecom players. BSNL WiFi services offers

super fast broadband internet service @ 20 Mbps

download speed.
BSNL being a True Digital India partner, started the initiative of launching WiFi Hot Spots across India to offer Public Internet Access to Consumers on the move. Till now, BSNL has provided WiFi services at over 1209 locations with more than 2500 Hotspots in more than 114 cities.
The WiFi hotspots are planned to be setup to spread high speed internet access through WiFi connectivity across Public places, Tourist Places, Heritage sites of India, Airports, Parks, University campuses, Schools, Colleges etc for bringing Internet connectivity for one and all.
BSNL Mobile Data Offload (MDO) Service :
Frequently Asked Questions (FAQ)
Question 1: What is WiFi MDO HotSpot ?


Answer: WiFi MDO Hotspot is a location where BSNL mobile customers (Pre-paid & Post paid) can access Mobile internet through wide band WiFi networks for faster speed, once they enter into the Hotspot area.


Question 2: Is the BSNL MDO facility available to other Telco customers like Airtel customers?


Answer: No. Only BSNL customers (both prepaid and postpaid) can access this facility.


Question 3: Any Pre-requisites for accessing MDO services ?


Answer: BSNL QMDO services are available on all WiFi enabled mobile handsets which support EAP-SIM-AKA. The customer should also have an active BSNL Data package (prepaid or postpaid).


Question 4: How to latch on to MDO ?


Answer:

Step-1:

Enable WiFi in the handset having BSNL SIM (one time procedure).

Step-2:

Select 'BSNL-QMDO' SSID ( one time procedure )

Step-3:

Select authentication mode as 'EAP-SIM' and you are connected.

Question 5: What are the charges applicable ?


Answer: Charges applicable shall be as per the existing Data Package availed by the customer.


Question 6: What are the advantages ?


Answer:
Customers will be able to access high speed internet at 2G/3G data price.

2G/3G MDO seamless connectivity with no additional charges.
Question 7:
Is internet through WiFi available for Non-BSNL customers?
Answer:
Yes. Non-BSNL customers can also avail internet services through Wi-Fi by subscribing BSNL pre-paid Wi-Fi Data Package online.
Steps to invoke WiFi Mobile Data Offloading (BSNL-QMDO) on BSNL Mobiles