State run telecom major, Bharat Sanchar Nigam Limited (BSNL) has cleared all benchmarks during the independent drive tests conducted by TRAI (Telecom Regulatory Authority of India) during June 2016 in the city of Trivandrum.
As per the latest TRAI drive test results, the Quality of Service (QoS) of BSNL 3G/2G mobile network is the best in Trivandrum, the capital city of Kerala. The drive test was conducted from 1st
to 3rd June 2016, covering various locations in the city over a distance of 350 k.m. by the Audit Agency M/s CS Datamation.
The performance of Aircel, Airtel, BSNL, Idea, MTS, Reliance, Tata and Vodafone has been measured across various technologies (2G, 3G and CDMA). The test results obtained from these drive tests were used to assess
the network condition more specifically in terms of Radio Frequency (RF)Coverage; Rx Quality; Call Setup Success Rate; Call Drop; Voice Quality; Blocked calls; and Carrier to Interference ratio.
TRAI Report on Independent Drive Test conducted in the city of Trivandrum from 1st to 3rd June 2016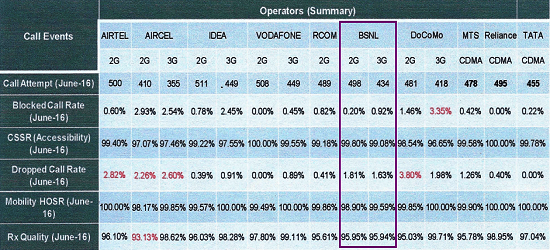 (Click / Tap to Zoom the Image)
The salient findings of the independent drive test are as under:-
From the above test resutls, it is very much clear that the Quality of Service of BSNL Mobile Services is much better than other prominent private operators like Airtel, DoCoMo, Aircel etc. Tariff plans offered by BSNL are the most economical in the current telecom market in India. In addition, BSNL offers the best and economical 3G/2G mobile data packs.
To get more customers from private operators, recently BSNL launched a new prepaid mobile plan – Students Special – which is bundled with a bouquet of attractive offers exclusive for MNP customers as well as for new BSNL mobile connections. Several
unique and industry first offers were already launched by BSNL such as –
FREE All India Roaming, FREE To Home Services, Mobile Data Offloading (MDO) Service etc.
Some of the Unique offers from BSNL which is exclusive for its customers are listed below:
Dear readers, please share your views and opinions about this latest TRAI Drive Test Results via comments with us.