State run PSU and PAN India 3G Service provider, Bharat Sanchar Nigam Limited (BSNL) achieved another milestone on 14th May 2016 as the total Mobile Data consumption crossed the much elusive figure of 300 TB.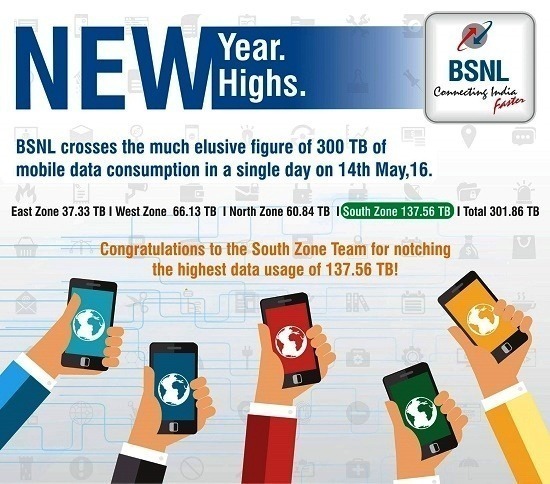 As per the latest information, BSNL's total mobile data consumption on 14th May 2016 reached its peak at 301.86 TB with South Zone registering the highest data usage of 135.56 TB. BSNL witnessed a steady growth of 65% in data volumes on year to year on basis. South Zone registered more than 100% rise in data volumes on year to year basis.
BSNL's Total Mobile Data Usage on 14-05-2016
| | | |
| --- | --- | --- |
| Sl No | BSNL Telecom Zones | Total Mobile Data Consumption on 14-05-2016 |
| 1 | South Zone | 137.56 TB |
| 2 | West Zone | 66.13 TB |
| 3 | North Zone | 60.84 TB |
| 4 | East Zone | 37.33 TB |
| | BSNL's Total Mobile Data Consumption on 14-05-2016 | 301.86 TB |
As we reported earlier, BSNL mobile network handled 200 TB of data on 12th April 2015.
The PSU registered an outstanding Mobile Data Revenue Growth of 92 percent in the Financial Year 2014-15. To further increase its data carrying capability, BSNL has focused on Wi-Fi, Data Center, 3G, 4G and FTTH in a big way.
During the last 2 years, a series of steps have been initiated in BSNL Mobile Network for facilitating and capturing the ever-increasing data volumes.
Read More: BSNL launches 'FREE TO HOME' service – Free Call forwarding facility from Mobile to BSNL landline even during roaming
BSNL's 3G data packs are the most economical offers available in Indian telecom industry. Recently, BSNL launched many attractive and innovative Data STVs and Data Sharing Facility for its prepaid mobile customers. BSNL is the only operator in India, offering FREE ALL INDIA ROAMING for both Voice and Data Services.
See latest BSNL 3G/2G Data Packs and Offers (Prepaid and Postpaid) below:
BSNL 3G/2G Prepaid Data Offers
BSNL 3G/2G Postpaid Data Offers
Read More: TRAI Report Card March 2016: BSNL activated 15 lakh new mobile connections and tops in monthly growth rate beating Airtel, Vodafone and Idea
Dear readers, please share your views and opinions about this tremendous achievement made by BSNL via comments with us.