National telecom backbone, Bharat Sanchar Nigam Limited (BSNL) has announced the launch of its network and services in DRASS in Kargil district of Jammu & Kashmir.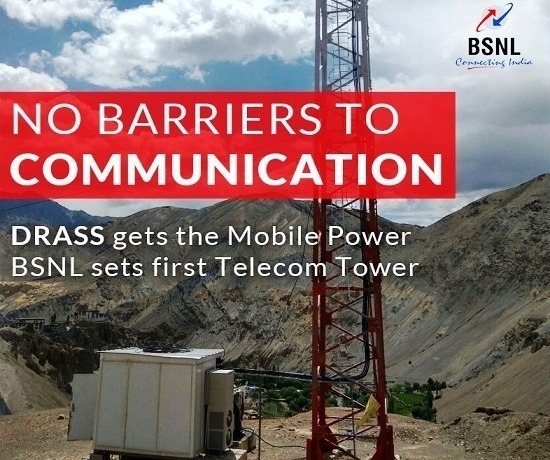 Drass is
often called 'The Gateway to Ladakh' which is at a height of
11,000 feet above sea level

. Now
visitors & residents of this high-altitude area may enjoy
full-fledged voice and data services from BSNL.
BSNL commissioned the first mobile tower in Batra Tarnsit Camp, Drass which is the 2nd coldest inhibited place on Earth where Winters are cold with average lows around −22 °C, and as low as −45 °C at the height of winter, which lasts from mid-October to mid-May. Four mobile towers of BSNL are aleardy working in the valley.
BSNL – the state run telecom major – is committed to provide state of the art telecom services to the people of India in the most challenging terrains like DRASS and Ladakh. BSNL is the only telecom company which is providing seamless connectivity throughout India and that too without Roaming Charges. As we reported earlier, the PSU installed mobile tower at a height of 16,000 feet above sea level in Ladakh with the help of Indian Army.
BSNL will always contribute towards development of communication infrastructure for benefit of the local population of both rural and urban India.

Dear readers, please share your views and opinions about this latest news from BSNL via comments with us.