PAN India 3G service provider, Bharat Sanchar Nigam Limited (BSNL) has announced the launch of Ramzan Special Combo Voucher 786
for it's Prepaid Mobile customers across India from 6th June 2016 on wards.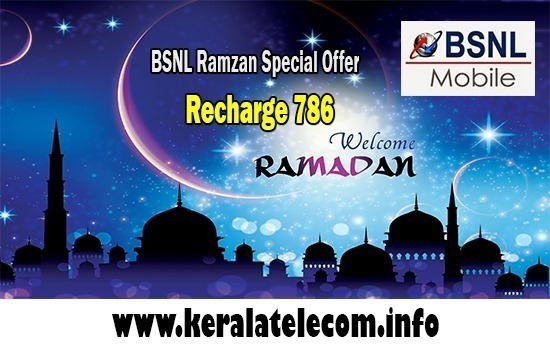 Ramzan Special Combo STV 786 will offer 786 MB Free 3G/2G Data + 786 Free SMS + Rs 600 talk value with validity of freebies 30 calendar days. The promotional Combo Voucher 786 (Recharge 786) will be available from 06-06-2016 to 06-07-2016 for all BSNL prepaid mobile customers on PAN India basis.
BSNL Ramzan Special Offer: New Combo STV – Recharge 786
Sl No
MRP of Combo STV Voucher (Inclusive of Service Tax)
Freebies / Features
Validity
1
Rs 786
786 MB Free 3G/2G + 786 and Free SMS + Rs 600 Talk Value (will be credited in main account of
the customer)
30 Calendar Days*
* The combo voucher will be valid till 23:59 hours of 30th day irrespective of time of recharge on 1st day.
Customers may activate Ramzan Special Combo Voucher 786 through Flexy Recharge(C-Top Up) Only. All other terms and conditions will remain same. The above offer will be available for a promotional period from 06-06-2016 to
06-07-2016. The implementation of the tariff is will be made in accordance with 43rd
Amendment of Telecom Tariff Order and orders/guidelines/clarifications issued by
TRAI from time to time.
In addition to the Ramzan Special STV – 786, BSNL already offers a bunch attractive Full Talk Time / Extra Talk Time Offers. See it's details below:
As we reported earlier, BSNL activated more than 15 lakh new mobile connections in March 2016. More and more new customers are joining BSNL family through MNP after the launch of FREE All India Roaming Scheme. BSNL's 3G data packs are the most economical offers available in Indian telecom industry.
See latest BSNL 3G/2G Data Packs and Offers (Prepaid and Postpaid) below:
BSNL 3G/2G Prepaid Data Offers
BSNL 3G/2G Postpaid Data Offers
Dear readers, please share your views and opinions about the newly announced Ramzan Special STV 786 from BSNL via comments with us.