State run telecom major, Bharat Sanchar Nigam Limited (BSNL) plans to launch Smart IP Payphone

(Smart card based PCO)

Services on PAN India basis very soon. BSNL Smart PCO services are currently available in Tamil Nadu Circle (including Chennai).
As we reported earlier, the PSU has plans to extend Smart card based PCO services in other Southern telecom circles which include – Kerala, Karnataka and Andhra Pradesh. BSNL will be providing Smart PCO services in association with M/s Navitel Corporation Private Limited (NCPL).
As per the latest information, BSNL authorities has given approval for the roll out of Navitel-BSNL Smart IP Pay Phone Services on Pan India basis. The VoIP server, RF requirement and its installation will be carried out by M/s Navitel and there is no capital investment to be made by BSNL.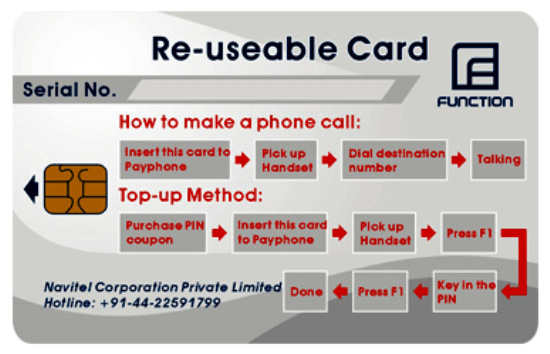 The connectivity of Smart IP payphone services will be based on the intranet VPN access. BSNL will be providing VPN access for IP payphone PCO through Copper pair / ADSL Modem / RF Link / FTTH ONT.
All incoming calls and c
alls among PCOs within VPN clouds also
will be barred
in all Smart IP Payphones. At PCO locations, BSNL may have to provide free of cost – VPNoBB (VPN over Bradband) in case of ADSL,VPNoFTTH (VPN over FTTH) in case of FTTH as per agreement. The installation, testing, commissioning and maintenance of the network equipments, wireless equipments, Payphones will be done by M/s Navitel.
BSNL will be installing these Smart Payphones (Smart PCOs) in public places like Airports, Bus stations, Hospitals, Schools, Colleges and Hostels and other major locations.
BSNL Smart Card Payphone service (Smart PCO) is offered through chip integrated reusable smart cards which come with lifetime validity. The smart cards need to be inserted into the payphone before dialing the desired number and the call charges will be deducted from the balance in the smart card.
Dear readers, please share your vies and opinions about this innovative Smart Card based Public Payphone Services by BSNL via comments with us.