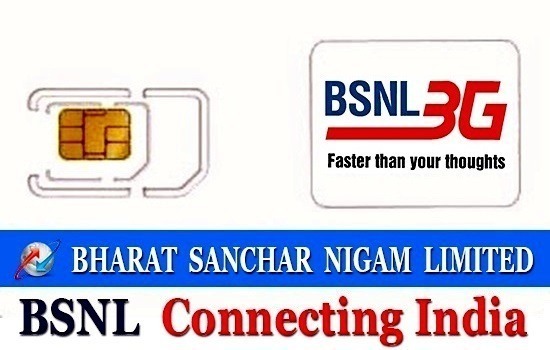 The revision in validity is applicable to all Corporate Data STVs (STVs which are available on PAN India basis) except Data STV 14, Data STV 68, Mobile TV packs and the recently launched Unlimited 3G/2G Data STVs.
BSNL pushed SMS alerts to all prepaid mobile customers intimating this latest revision in validity of its 3G data packs.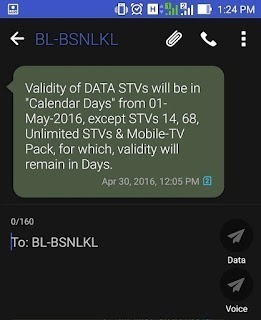 We are receiving a lot of queries and doubts from our readers regarding this latest validity revision and its implications on existing customers. BSNL announced the validity revision of 3G/2G data STVs on 12th April 2016. As per the clarification issued by BSNL, the validity of all existing Corporate Data STVs will be up to 23:59 Hours of last day of validity irrespective of validity on first day.
It means that while counting the validity, the Day of Recharge (irrespective of time) also will be counted as ONE DAY. If a customer is activating a new 3G data pack of Rs 78 having 5 days validity on today (02-05-2016) at 2 PM, the data pack will expire on Fifth day i.e., on 06-05-2016.
Customers recharging Data STVs are advised to activate them early in the morning (after 00.00 Hrs) so that he / she may get the maximum benefit.
See the latest BSNL 3G/2G Data STVs and Annual Data Plan Vouchers below:
BSNL launched 3G/2G Data Sharing Facility for all prepaid mobile customers on PAN India basis. The new facility allows sharing of Mobile Data among a group of prepaid subscribers. See its details and FAQ below:
BSNL received The Best PSU Awards 2015 under the category of Highest Turover PSU in Mini Ratna – Non Manufacturing. See its details below:
Dear readers, please share your views and opinions about this latest validity revision by BSNL via comments with us.