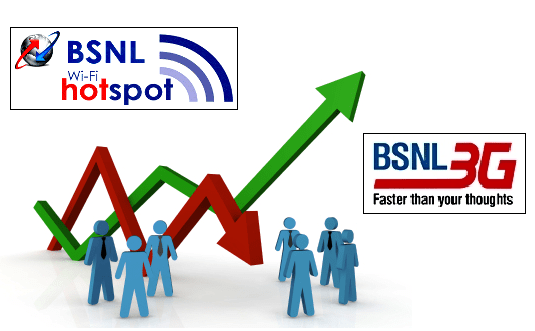 BSNL's total revenue from services was Rs 27,242 crores in FY 2014-15 with
a growth rate of 4.16 percent vis-a-vis FY 2013-14. BSNL was managed to report an operating profit of Rs 672 crores in FY 2014-15 from an operating loss of Rs 691 crore in FY 2013-14.
BSNL CMD said – "As per unaudited figures, we are hoping to cross revenue of Rs 30,000 crore in the year ended on March 31, 2016 that includes mobile, landline and enterprise business. This is going to be 3-4% higher than last year. We have also been able to bridge the Rs 150 crore gap on account of free roaming services. Debt to equity ratio is 0.13% which is lowest in the industry."
To increase its data carrying capability, BSNL has focused on Wi-Fi Hotspots (4G Hotspots)
in a big way. The PSU had installed 2504 WiFi Hotspots till date which includes major tourist locations across the country.
"We realised that BSNL does not have 4G spectrum and at the same time we don't want to miss the data bus. We decided to exploit potential and Wi-Fi has become an obvious choice to join the mobile network. Other than broadband, it will also work as 4G hotspots. These hotspots work on free Wi-Fi zones while the cost of spectrum is also rising," – BSNL CMD added.
Dear readers, please share your views and opinions about this latest news via comments with us.