State run telecom operator, Bharat Sanchar Nigam Limited (BSNL) has announced the revision of Volume based Prepaid WiFi plans
for the WiFi Hotspot Services from 6th April 2016 in all the circles.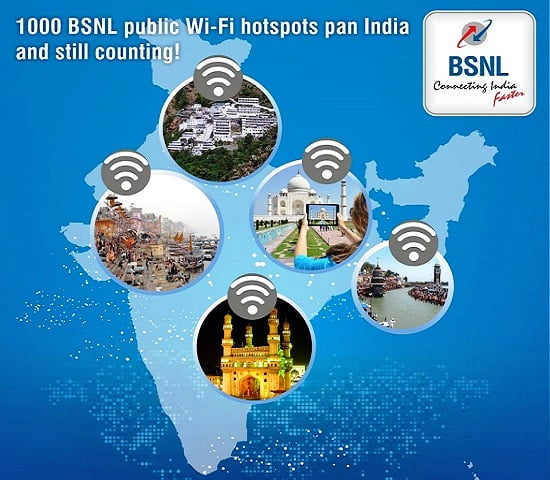 As per the latest information, BSNL will be increasing the validity of higher usage prepaid WiFi plans – 'BSNL WiFi 90' & 'BSNL WiFi 150' as a promotional scheme for a period of 90 days from 06-04-2016 on PAN India basis.
Revised BSNL Prepaid WiFi Plans with effect from 06-04-2016 in all the circles
Plan Name

Price Inclusive of Service Tax

Existing
Revised
Data Volume and Validity (w.e.f. 11-03-2016 on promotional basis for 90 days)
Revised Data volume and Validity on promotional basis for 90 days from 06-04-2016
BSNL WiFi 90
Rs 90
800 MB, Two days validity
800 MB, Three days validity
BSNL WiFi 150
Rs 150
1.5 GB, Three days validity
1.5 GB, Seven days validity
All other terms and conditions shall remain same. The above tariff change shall be effective for a promotional period of 90 days with effect from 06-04-2016 to 04-07-2016 for in all the Circles. This tariff revision is applicable to BSNL WiFi Hot Spot services (in association with Hot Spot service provider) to retail customers on PAN India basis (including major Ghats of Varanasi).
Read More: BSNL to offer 200% Extra validity for Prepaid WiFi plans from 11th March 2016 on wards across all telecom circles


As we reported earlier, BSNL already revised its Free WiFi plan by restricting the maximum download speed to 256Kbps. Moreover, customers are allowed to enjoy Free WiFi usage only at tourist locations and that too only once for same mobile number.
Dear readers, please share your views and opinions about this latest tariff revision from BSNL via comments with us.